Posted on
Sun, Jan 27, 2013 : 1:05 p.m.
Man charged with 2 armed robberies returns to court next month
By Kyle Feldscher
The man accused of robbing convenience stores in Ypsilanti and Ypsilanti Township will return to court next month and was ordered to take classes from Dawn Farm while in jail.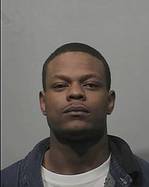 Courtesy of the WCSO
Douglas Norwood, a 26-year-old Ypsilanti Township man, is charged with robbing an Ypsilanti Rite Aid and an Ypsilanti Township CVS on Dec. 29 and Dec. 31 respectively. According to police, he showed a handgun and took money at both stores.
He was in court for a preliminary exam Tuesday morning. The hearing was adjourned until 8:30 a.m. Feb. 12 and will take place at the 14A-1 District Court in Pittsfield Township.
District Court Judge Richard Conlin ordered Norwood be referred to take classes from Dawn Farm while in jail.
Norwood is charged with two counts of armed robbery, being a felon in possession of a firearm, carrying a concealed weapon and possession of a firearm during the commission of a felony.
He's being held in the Washtenaw County Jail without bond. According to state records, Norwood previously has pleaded no contest to a charge of larceny from the person from an incident on Oct. 11, 2011. He was sentenced to a maximum of two years in prison for that crime in December 2011.
Kyle Feldscher covers cops and courts for AnnArbor.com. He can be reached at kylefeldscher@annarbor.com or you can follow him on Twitter.