Posted on
Thu, Jan 10, 2013 : 12:55 p.m.
Man faces more charges in 2nd armed robbery at Ypsilanti-area drugstore
By Kyle Feldscher
A 26-year-old Ypsilanti Township man is being held in the Washtenaw County Jail without bond after being charged Wednesday with a second armed robbery.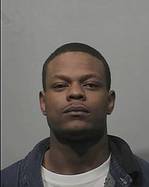 Courtesy of the WCSO
Douglas Norwood was arraigned Saturday on charges related to an armed robbery on Dec. 29 at an Ypsilanti Rite Aid. On Wednesday, he was formally charged with more felonies related to a Dec. 31 armed robbery at CVS, 1415 E. Michigan Ave. in Ypsilanti Township.
Norwood is charged with armed robbery, being a felon in possession of a firearm, carrying a concealed weapon and possession of a firearm during the commission of a felony. Sgt. Geoffrey Fox, of the Washtenaw County Sheriff's Office, said Norwood was arrested Jan. 3 in Detroit but was charged with the Rite Aid robbery first.
Norwood is accused of walking into the CVS and approaching the counter with a drink, as if to pay for the item, before displaying a handgun and ordering the cashier to give him money, according to the sheriff's office.
The incident occurred at 6:50 p.m. Dec. 31.
Norwood also is charged with walking into the Rite Aid at 753 Grove St. in Ypsilanti at approximately 7:25 p.m. Dec. 29. The robbery described by police follows much of the same details as the Dec. 31 incident.
According to Ypsilanti police, Norwood walked to the counter as if to make a purchase and then displayed a black, semi-automatic handgun when the cashier opened the cash register. An unknown amount of cash was stolen, police said.
He was charged with one count of armed robbery in that case, court records show.
According to state records, Norwood has previously pleaded no contest to a charge of larceny from the person from an incident on Oct. 11, 2011. He was sentenced to a maximum of two years in prison for that crime in December 2011.
He was originally scheduled to face a preliminary exam in that case at 8:30 a.m. Jan. 15 at the 14A-1 District Court in Pittsfield Township.
Kyle Feldscher covers cops and courts for AnnArbor.com. He can be reached at kylefeldscher@annarbor.com or you can follow him on Twitter.