Posted on
Mon, Dec 10, 2012 : 5:37 p.m.
Ypsilanti gunman sentenced to 7-10 years in drug-related shooting
By John Counts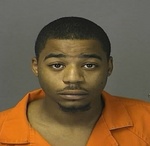 From Ypsilanti Police
The 24-year-old Ypsilanti man who shot three men during a drug deal gone wrong in March last week was sentenced to serve to 10 years in prison, according to court records.
In October, Quenton Dodson pleaded guilty to felony firearm and no contest to three counts of assault with intent to commit great bodily harm less.
On Dec. 3, Judge Melinda Morris sentenced Dodson to five to 10 years on the three assault charges. He also received a mandatory consecutive two-year prison term for the felony firearm charge.
He is credited with eight months and 11 days in jail. Morris did not object to Dodson's participation in a prison boot camp, according to court records.
The shooting incident occurred near the Eastern Michigan University campus in Ypsilanti on March 23 in the 300 block of Jarvis. According to police, Dodson was attempting to sell Oxycontin when the deal suddenly fell apart. Police said Dodson pulled out a gun and fired on a group of four people, injuring three men between the ages of 18 and 20. One man was hit in the stomach, one suffered a hip wound and another was struck in the chest. All of them survived the incident. Dodson was eventually arrested in Detroit and brought back to Washtenaw County to face charges.
Dodson was charged with three counts each of assault with intent to murder, assault with intent to do bodily harm less than murder and four counts of assault with a dangerous weapon. He also was charged with carrying a concealed weapon, being a felon in possession of a firearm and felony firearm.
All but the three charges of assault with intent to do bodily harm less than murder and felony firearm were dismissed as part of a plea deal.
John Counts covers cops and courts for AnnArbor.com. He can be reached at johncounts@annarbor.com or you can follow him on Twitter.