Posted on
Mon, Mar 4, 2013 : 5:59 a.m.
Man who pulled gun during late-night Coney Island melee had a concealed weapons permit
By Tom Perkins
Courtesy of the Washtenaw County Sheriff's Office
Editor's note: Information about Michigan's stand-your-ground law has been corrected in this article. Also the spelling of Trayvon Martin's first name has been corrected.
On Jan. 11, 32-year-old Ronjour Jacobs of Ann Arbor carried a gun into the Luca's 24-hour Coney Island in Ypsilanti Township, as he is allowed to do with his concealed weapons permit.
But shortly after arriving, police say, he pulled the gun out, pointed it in a waitress's face, put it to the back of another victim's head and brandished it during a melee involving two groups.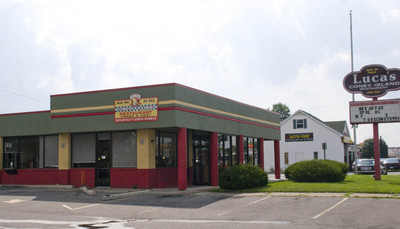 Tom Perkins | For AnnArbor.com
Having the CCW permit doesn't give Jacobs or others the right to pull a gun during a fight, police say. Jacobs was charged with three counts of assault with a dangerous weapon and charges of assault and battery, possession of a firearm during the commission of a felony and brandishing a firearm.
Jacobs is being held on $100,000 cash bond. A pretrial hearing is set for Monday.
The incident comes as a national dialogue heats up over gun control following the December shooting at Sandy Hook Elementary School in Newtown, Conn., that killed 20 children and six educators.
It also comes as Washtenaw County sees a spike in the number of CCW applicants and permit holders. Ernie Milligan, chairman of the Washtenaw County Gun Board, said the board received 189 applications for permits in February 2011. That figure rose to 444 applicants in February 2013.
There were 1,841 county residents with CCW permits in 2011, and Milligan expects that figure to at least double by the end of 2013.
The Washtenaw County Sheriff's Office does not keep statistics on how many people it arrests have a CCW permit. Since it isn't something that is noted in reports, it's impossible to say how many CCW license holders are law abiding or not, spokesman Derrick Jackson said.
A concealed-carry permit allows someone to carry a gun in a holster, purse, under a coat or anywhere where it is concealed," Jackson said. It doesn't allow anyone to brandish a gun or pull it out in a fistfight, as Jacobs did.
"At the point that he took it out and put in someone's face; that's where, in this particular case, the law began to be broken," Jackson said.
Michigan has the so-called "stand your ground" law that allows residents to use a gun if they "honestly and reasonably" believe they or another person are being threatened with death, severe injury or rape. The laws have been controversial and are at the center of the Trayvon Martin shooting, in which a 17 year-old black male from Florida was fatally shot by a man who claimed he was threatened.
However, nothing in Michigan law addresses openly carrying a gun. Since there is no law against someone walking around with a gun out in the open, there technically is no way for law enforcement to stop someone from doing just that.
There are, however, some "no carry zones," like schools, hospitals and police stations.
Users obtain CCW permits through the Washtenaw County clerk's office. Applicants must take a gun safety course and pass a federal background check. They are rejected if they have certain crimes on their record, like gun violence or domestic assault.
Jackson did not respond to inquiries about whether or not Jacobs had prior arrests before the incident at Luca's. He said officers are aware that there is an increase in the number of people carrying guns in Washtenaw County, and they do regularly encounter people with permits.
"Deputies have to be mindful of the number of weapons out there now because of the dangers they pose," he said.
Tom Perkins is a freelance reporter for AnnArbor.com. Contact the news desk at 734-623-2530.