Posted on
Sun, Nov 11, 2012 : 11:02 a.m.
Meet the candidates: Interviews set for 19 applicants seeking appointment to new Ypsi-Willow Run school board
By Danielle Arndt
Editor's note: Kimberly Browning has withdrawn her application for school board of the consolidated district.
Monday and Tuesday the public and the Washtenaw Intermediate School District's Board of Education will have their first opportunity to interact with candidates for the new, consolidated Ypsilanti-Willow Run school district that was approved by voters Tuesday night.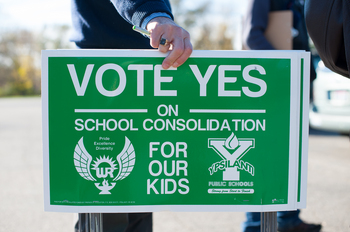 Courtney Sacco | AnnArbor.com
WISD trustees will conduct the interviews of the
19 applicants
vying for a seat on the to-be-established seven-member school board. The interviews are open to the public and the community has been encouraged to show up.
There will be an opportunity for public comment both days.
"The WISD board has a wealth of experience in governance and will conduct fair and thorough interviews," said WISD Superintendent Scott Menzel in a news release Thursday. "They understand the gravity of selecting the best individuals from the pool of applicants who can work cohesively to accomplish the monumental task of launching a new school district."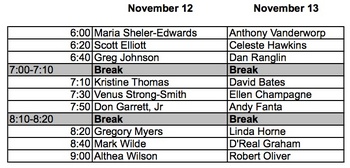 From the WISD
Each applicant was given a list of questions to prepare for the interview process. The WISD is expected to appoint the seven individuals to serve on the new school board Nov. 19.
The appointed board will set the course and make staffing and facility decisions for the new consolidated school district, which will become operational effective July 1, as well as manage the existing Ypsilanti and Willow Run school districts up until then.
The interviews will take place at 6 p.m. Monday and Tuesday, with the first round occurring at Willow Run High School, 235 Spencer Lane, and the second at Ypsilanti High School, 2095 Packard Road.
The hopeful school board members were required to submit a letter of intent, resume and letters of recommendation to apply. Of the 19 candidates, four served on the recently dissolved Ypsilanti school board and four others were members of the Willow Run school board.
Here's a brief rundown of all of the candidates according to application documents obtained by AnnArbor.com:
David Bates
Bates is currently a teacher at Dearborn Public Schools. He served on the Ypsilanti Board of Education since 2006, most recently as president.
Kimberly Browning
Browning is a published expert in the field of early childhood education. She has a doctorate in educational studies and child development from the University of Michigan and is an adjunct professor at Eastern Michigan University. She has conducted research for numerous organizations, including the HighScope Educational Research Foundation in Ypsilanti.
Ellen Champagne
Champagne is a program evaluator and data specialist at the U-M Michigan Institute for Clinical and Health Research. She served as a trustee on the Ypsilanti school board for the past two years.
Scott Elliot
Elliot is a parent in the YPS district. He spent 12 years as an employee of the Washtenaw County Head Start program and currently is an early childhood education specialist at STG International.
Andy Fanta
Fanta is a local attorney specializing in family law, juvenile law and bankruptcy. He served on the Ypsilanti school board in various capacities since 1998. As a trustee, he led the public conversation to "retire" the Braves logo and name, established and incorporated the YPS educational foundation with two others and created revenue by splitting and platting vacant land behind the Fletcher School for use in the Regional Career Technical Center program, among other things.
Don Garrett Jr.
Garrett graduated from Willow Run High School in 1990. He served on the Willow Run school board since 2009 and most recently as president. He worked with Bates of Ypsilanti to bring the consolidation effort to fruition.
D'Real Ryan Graham
Graham is a 2005 graduate of Ypsilanti High. He is a program coordinator for 826 Michigan, a science educator at the Ann Arbor Hands-On Museum and has been a preschool teacher at Bright Horizons Family Solutions. He also has served on the city of Ypsilanti's Parks and Recreation Commission for the past year.
Celeste Hawkins
Hawkins is a social worker and doctoral candidate at EMU studying educational studies and urban education. She is the former director of family and community services at Avalon Housing Inc. in Ann Arbor. She also was the director of resident services at Washtenaw Affordable Housing and worked in the past as the Extended Day program director at YPS.
Gregory Johnson
Johnson's service experience includes being a member of the city's Zoning Board of Appeals. He also was an instructor at the Washtenaw Community College and has experience in grant writing and project management.
Gregory Myers
Myers served on the Willow Run school board since January 2011. He has been the chairman of the Washtenaw County Head Start program's Policy Council for the past two years. He currently works in retail.
Robert Oliver
Oliver currently is a contract employee with YPS. He is the energy manager for the district and previously was employed as the director of media services. He has been a resident of Ypsilanti since 1965.
Daniel Raglin
Raglin is a former General Motors employee and currently is a career transition coach for Right Management in Southfield. He has experience in managing labor-union relations and other human resources policies and procedures.
Maria Sheler-Edwards
Sheler-Edwards is a parent of children in the Ypsilanti school district. Her oldest son graduated from Ypsilanti High in 2005. She is a graduate of U-M and EMU and has spent her career in the field of communications and public relations. During the months leading up to the Nov. 6 election, Sheler-Edwards was the co-chairwoman of the Friends of Education Committee, which was active in going door to door to campaign for the merger.
Linda Snedacar-Horne
Snedacar-Horne is an administrative assistant at the HighScope Educational Research Foundation. She served on the Ypsilanti school board since 2006 and is the former president of Ypsilanti's Parent-Teacher-Student Organization.
Venus Strong-Smith
Strong-Smith has substitute taught for years at many districts throughout Washtenaw County. She currently is an elementary drama teacher and musical director at the Marvin L. Winans Academy of Performing Arts in Detroit.
Kristine Thomas
Thomas has been involved in the Willow Run School district as a teacher and a trustee for more than 20 years. Most recently, she served as the school board vice president.
Anthony VanDerworp
VanDerworp is a longtime community planner, city manager and economic developer. He is the current executive director of the county's Eastern Leaders Group. He also has two grandchildren who wil be entering the school system in the near future.
Mark Wilde
Wilde became involved with the Willow Run school district in the 1995-96 academic year. He was the first parent assigned to the district's expulsion reinstatement committee. He served on the school board as a trustee since 2001. His background is in the industrial arts: electronics, auto mechanics, graphic arts and computer science.
Althea Wilson
Wilson is a program coordinator and parent educator for First Steps, part of the Washtenaw Success by 6 Program. She has a degree in human development from the University of Illinois. She also has worked as a parent liaison/child advocate for the Washtenaw County Great Start Parent Coalition.
Danielle Arndt covers K-12 education for AnnArbor.com. Follow her on Twitter @DanielleArndt or email her at daniellearndt@annarbor.com.