Posted on
Tue, Jul 31, 2012 : 5:55 a.m.
Ypsi-Willow Run leaders reveal 5 'focus areas' as districts head toward possible merger
By Danielle Arndt
Officials heading up the Ypsilanti-Willow Run school district consolidation talks unveiled five focus areas that will serve as the strategic framework for the potential new district Monday night.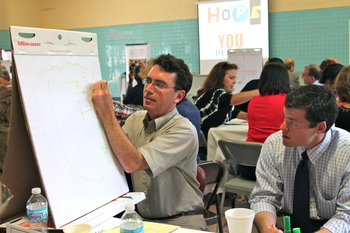 Courtesy of the Washtenaw Intermediate School District
The joint
Communication and Collaboration Task Force
met at Willow Run High School to discuss the outcome of a
two-day design and planning retreat
conducted July 18 and 19.
The five strategic domains that resulted from the retreat were:
1. Early childhood education that's prenatal through kindergarten
2. Effective leadership at all levels
3. Creating a positive culture and climate that is focused on learning
4. High quality teachers/teaching
5.College credit or career credential prior to high school graduation
According to an executive summary report, presented by Washtenaw Intermediate School District Superintendent Scott Menzel, the idea behind the five focus areas is: "Rather than identifying which buildings will remain open or closed, what the grade configurations of the various buildings will be, etc., the design process is focused on creating a framework for … the (school) system that will guide decisions once the community has decided whether or not to proceed."
Menzel said the details of "how" will be fleshed out following November's general election, provided the consolidation proposal is approved by both boards and passed by the public's vote.
Task force members and meeting attendees generally were pleased with the executive summary and information Menzel provided. But some criticism arose regarding school officials' efforts to engage the community constructively in the planning period.
Cheryl Garnett, a former Ann Arbor school board member, asked: Where are the balloons?
"I can put my school board hat on and see that this is exciting. That in these harsh realities, it's something to look forward to," she said. "I can see the light at the end of the tunnel. … But as a grandma, I'm scared. It's scary the doom and gloom that you all are saying, and I'm worried about the stability of what my granddaughter's walking into."
Garnett said her granddaughter, who recently moved to Ypsilanti, will transfer from Ann Arbor Public Schools to Ypsilanti Public Schools in the fall. Ypsilanti and Willow Run officials need to focus more on "what's going to happen," use fewer fear tactics and "bring out the balloons (and) really sell it," she said.
Willow Run Superintendent Laura Lisiscki thanked Garnett for her comments, adding she recently relayed a similar message to her staff.
Lisiscki said teacher morale is low in both school districts, but if the community bans together and believes in and is enthusiastic about its mission of doing what's best for kids, everyone will come out on top.
Ypsilanti school board Trustee Ellen Champagne said her concern is the executive summary does not give enough detail to satisfy the general public and may be too "high level" and concept oriented for people outside of the boards, teachers, administrators and active parents. She said the inactive parents are whom school officials need to connect with most about the merger.
Several meeting attendees spoke about reaching more voters in the community and using parent email addresses or mailers to inform people about upcoming forums and opportunities for engaging and learning about the possible merger.
School officials recently hired EPIC-MRA, a well-known Michigan polling agency, to conduct 15-minute phone surveys of 300 Willow Run voters and 300 Ypsilanti voters to gauge the public's receptiveness to the merger concept.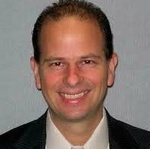 The calls began on Saturday. Menzel said he anticipates the results to be processed by mid-August. He said the surveys will help school officials determine which positive and negative statements about the potential consolidation resonate with people. The results of the survey will help officials be able to target their audiences for campaigning as well as reaching community members for forums and engagement sessions.
Menzel stressed the executive summary is still a working document and is still in draft form.
The summary touted the benefits of an early childhood education experience, citing statistics from the Ypsilanti-based HighScope Foundation's 14-year study of the Great Start Readiness Program.
Menzel said while early childhood education programs have been cut elsewhere in the state, the new Ypsilanti district would make prenatal to kindergarten learning a priority. He said there are two local foundations that would be "willing to put money" behind Ypsilanti-Willow Run's efforts.
The executive summary said the new Ypsilanti-Willow Run school district would:
Create community-wide awareness and understanding of the value and importance of giving every child access to an early childhood program that's prenatal through kindergarten entry.
Use a family development center model to establish local learning hubs for families to access comprehensive "one-stop shopping" services, such as access to high quality pediatric and mental health care and education and support programs for parents.
Engage community stakeholders in developing a "single, collaborative and seamless" system of early childhood education to ensure all children receive developmentally appropriate, best-practice programs that are culturally sensitive to the needs of children and families.
Create effective leaders that are good listeners, have vision for the district, care for the success of students, are supported and given appropriate resources, and are able to make difficult decisions and decisions based on solid principles, not what is popular at the moment.
Identify models of effective school culture and climate and examine the relationship between student achievement and school climate.
Find ways to obtain more qualitative and quantitative data (student attendance, discipline, health issues, etc.) to ensure the specific needs of the community are met.
Create a "community of learners" environment where students are involved in their own lessons and curriculum.
Develop a college access design team with Washtenaw Community College as the anchor organization, serving as a partner in the new district and a link to career exploration and college readiness for kids.
Tyler Weston, a local real estate agent, asked whether the districts had developed any tangible goals, such as graduating a certain number of students within five years, if the consolidation is approved, or surpassing certain college readiness percentages.
Menzel said that level of specific goal setting would not take place until after November's general election, and would depend on the outcome of the vote.
He said each district currently has under way its own separate goals and initiatives, in addition to the financial crises they both are facing. If the ballot proposal passes and the districts merge, WISD officials would have 10 days to appoint a new seven-member school board that would serve the new district and both individual districts from the election forward. Goals for the new district would be set at that juncture, Menzel said.
The new district would need to be established by July 1, 2013.
Two additional community forums on the strategic design framework of the potential new district are scheduled for 6 p.m. Aug. 6 and 7 at the Eastern Michigan University Student Center, Room 310A, 900 Oakwood St., Ypsilanti.
The boards will vote to proceed on consolidation during a meeting at 7:30 p.m. Aug. 8 in the Eastern Michigan University Board of Regents Room, on the second floor of Welch Hall.
Staff reporter Danielle Arndt covers K-12 education for AnnArbor.com. Follow her on Twitter @DanielleArndt or email her at daniellearndt@annarbor.com.