Posted on
Mon, Nov 26, 2012 : 1:12 p.m.
Newly appointed Ypsilanti-Willow Run school board to conduct first meeting Monday night
By Danielle Arndt
The newly appointed board for the consolidated Ypsilanti and Willow Run school district will be sworn in Monday night.
The board will conduct its first meeting at 7 p.m. at Ypsilanti High School. The next meeting will take place at Willow Run. The board will continue to rotate between the two schools until July 1 when the new district is allowed to operate.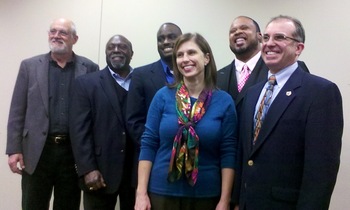 Danielle Arndt | AnnArbor.com
Monday's meeting will consist mostly of housekeeping matters, such as swearing in the trustees and electing a president, vice president, secretary and treasurer.
There also is expected to be some discussion on how to proceed with future meetings and which issues for each district must be separately tackled before the end of the year.
The appointed board will be responsible for managing both Ypsilanti and Willow Run public schools, as well as for setting the course for the new district in the months leading up to July.
The Washtenaw Intermediate School District's five-member Board of Education selected seven individuals from a pool of 18 on Nov. 16 to make up the new unified school board.
The appointees were former Ypsilanti President David Bates, former Willow Run President Don Garrett and former Willow Run Trustee Greg Myers, along with four fresh faces: Anthony VanDerworp, Daniel Raglin, Maria Sheler-Edwards and Celeste Hawkins.
View Monday's complete meeting agenda here.
In both districts, teachers' biggest and foremost concerns are whether they will have a job next fall. And in Ypsilanti, teachers still are hearing humors they may not get paid come January.
Ypsilanti Superintendent Dedrick Martin announced in July the state would not permit Ypsilanti to borrow a full $14 million from the Michigan Department of Education this year, causing cash-flow problems and insufficient funds that have threatened teachers' paychecks.
Both of the current teachers union presidents for Ypsilanti and Willow Run were pleased with the people chosen to serve on the new unified school board. However, they stressed the importance of trustees making staff decisions quickly.
Washtenaw Intermediate School District Superintendent Scott Menzel, who helped facilitate the merger, has said although he cannot speak to the size of the combined district (that will be up to parents and the new board), some layoffs are likely.
Willow Run Education Association President Kathleen Miller said she hopes the board will give at least some sort of indication soon of what teachers' salaries and benefits will be like next year.
The new board also could confirm whether current teachers will have to re-apply for their jobs, as they have been told, Miller said.
"There is a lot that has to take place, and teachers know that," she said of merging Ypsilanti and Willow Run. "But I don't see why they can't let us know some type of process of what's going to happen for teachers. We have a lot of really good, qualified teachers that we're going to lose otherwise."
Menzel said the new district cannot hire anyone, teachers or a superintendent, before July 1. He said the only option would be letters of intent or something similar because the board cannot legally enter into any binding contracts for the new district prior to July 1.
Teachers also cannot unionize or negotiate prior to that date, he said in a previous interview.
Ypsilanti Education Association President Karen Siegel said nowadays, teachers are looking for new jobs constantly, and it is not uncommon for a teacher to leave mid-year to take a position with another district. She said when schools were thriving, most teachers waited until spring or summer to make a switch for a better opportunity.
"Not anymore. ... Time is of the essence," she said.
Menzel has been talking with State Rep. David Rutledge, D-Superior Township, and soliciting the legislator's assistance in Lansing. Menzel said he and Rutledge are working to see if the state will excuse the combined $15 million deficit that the new district will inherit as a debt note, similar to a mortgage a homeowner would pay.
Menzel said the Michigan Department of Treasury would have to approve the reclassification of the debt. If it does, the new district would not have to put together deficit elimination plans each year, which is immensely time consuming, and the board could work with a budget that was in the black, Menzel said.
School officials also are still waiting to see how long of a repayment period the state will give them. State Superintendent Michael Flanagan indicated in August the new district could be awarded up to 20 years to pay off Ypsilanti and Willow Run's combined deficit.
Menzel and Rutledge also are trying to pass legislation that would call for unified districts to be awarded the higher per-pupil allotment of the consolidating districts. Currently, state statute says the per-pupil allotment for a new consolidated school district must be a blended amount.
Monday's meeting starts at 7 p.m. in Room 138 at Ypsilanti High School, 2095 Packard Road.
Danielle Arndt covers K-12 education for AnnArbor.com. Follow her on Twitter @DanielleArndt or email her at daniellearndt@annarbor.com.