More than 200 Ypsilanti residents participate in U.S. Department of Energy funded program
Posted on Tue, Mar 5, 2013 : 5:58 a.m.
More than 200 Ypsilanti residents have participated in an energy audit project, designed to save close to $500 on their monthly energy bills.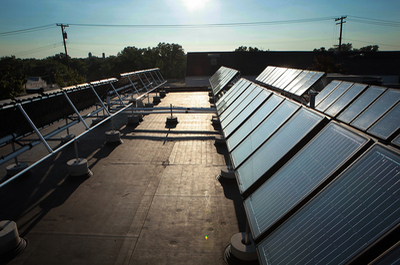 Nearly 3,200 residents have signed up for the BetterBuildings for Michigan non-profit program, funded by the U.S. Department of Energy.
The state received a $30 million grant from the U.S. Department of Energy and southeast Michigan, including Washtenaw County, received a portion of the grant.
The program will end March 31 or before if they have served a total of 4,000 homes across the southeastern region.
"This is a great opportunity for people to reduce their monthly energy bills and help the environment at the same time," said Teresa Gillotti , Ypsilanti City Planner.
In Ypsilanti, 208 households have had an energy audit, and 60 of those have chosen to use the program's incentives toward home improvements estimated to save them an average of $437 per year on their energy bills.
If residents choose to take on an energy savings project, they are eligible for up to $5,000 in incentives toward the cost of those projects.
Throughout Washtenaw County, an additional 220 people have taken advantage of the program, with 51 completing energy projects.
"It's available to everyone in Washtenaw County," said Gillian Ream, communications coordinator at Southeast Michigan Regional Energy Office. "The city of Ypsilanti was one of the first six pilot cities."
Ream said the city's participation within the BetterBuildings program was one of the goals of the recently-established climate action plan.
The climate action plan was put in place, in hopes of creating a strategic and sustainable plan to reduce greenhouse gas emissions.
Several recommendations were put into place after a report revealed the most recent data shows the Ypsilanti community emitted 302,710 metric tons of greenhouse gas emissions in 2008. This number is equivalent to 15 metric tons per capita for the city.
"We've had a huge response in Ypsilanti, it's been one of our top cities," Ream said. "We've got a really environmentally minded community here."
The program is open to homeowners and renters within single-family residences. The audit costs $100. During an audit, a certified building analyst uses equipment to pinpoint where homes are losing energy and detect structural leaks, air infiltration and inadequate insulation.
Residents also receive CFL lightbulbs, a low-flow showerhead and programmable thermostat installed and a personalized report designed to help them prioritize energy efficiency projects and understand what incentives are available to pay for any recommended improvements.
"I think it's a great opportunity to get a really clear sort of unbiased picture of what your house needs," Ream said. "If you get an energy audit, it gives you a really clear picture of where your house is losing energy and it's a great way to invest in your home."