Michigan Suburbs Alliance propose climate action plan for Ypsilanti
Posted on Wed, Jun 27, 2012 : 5:56 a.m.
The Michigan Suburbs Alliance has put together a climate action plan for the city of Ypsilanti in hopes of creating a strategic and sustainable plan to reduce greenhouse gas emissions.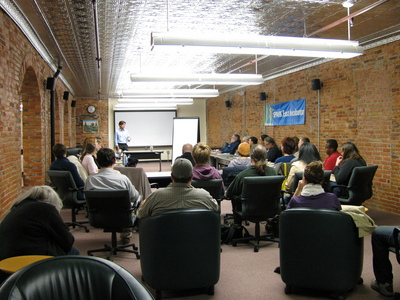 Courtesy photo
The alliance kicked off the Ypsilanti project-planning phase in 2011 after receiving a $47,600 grant from the Michigan Department of Environmental Quality and Community Pollution Prevention Program to develop the plan.
The Suburbs Alliance worked with Ypsilanti, Southgate and Hazel Park to receive the grant funding.
Richard Murphy, director of place programs for the Suburbs Alliance, said Ypsilanti became part of the plan after the alliance approached a number of area communities that were already doing some energy-related work.
"There was a lot of interest in Ypsilanti between things like the Solar Ypsi Project and community gardening groups working on energy-related issues," Murphy said. "We knew that there was an increasing interest so we approached them with a way to take the next step."
In 2011, Ypsilanti joined the Millennial Mayors Congress, a collaborative body of civic leaders focused on developing a sustainable Detroit region. In December 2009, the Congress adopted an Energy Savings Protocol, setting a goal of reducing government uses of energy from non-renewable sources to 25 percent below 2005 levels by 2015.
Ypsilanti is seeking to go beyond that 2015 goal.
For more than 15 months, Ypsilanti and its consultants, Michigan Suburbs Alliance and WARM Training Center, collected available energy usage data. Data was collected primarily from city departments, DTE Energy, the Southeast Michigan Council of Governments and the U.S. Census.
Their research shows the Ypsilanti community emitted 302,710 metric tons of greenhouse gas emissions in 2008. This number is equivalent to 15 metric tons per capita for the city.
While the Ypsilanti city government contributed 3,387 metric tons of emissions, the commercial sector in Ypsilanti was the greatest contributor to GHG emissions, with 9.5 percent of the total emissions, plus 23 percent additional commercial emissions from Eastern Michigan University, for a total of 32.5 percent.
The industrial sector followed close behind at 31 percent and residential properties were third, with 20 percent of the total emissions.
Murphy said the city has already begun projects to reduce those numbers.
Tom Perkins | For AnnArbor.com
Ypsilanti's City Hall installed a 2.5 kW photovoltaic array in 2010. Using roughly $27,000 out of a $36,000 state grant awarded to the Ypsilanti Food Co-op in May 2008, Solar Ypsi founder Dave Strenski and a team of volunteers installed 12 panels on city hall's south side roof in April of 2010.
The Solar Ypsi initiative has initiated and supported several solar photovoltaic installations around Ypsilanti, Murphy said.
Solar energy generation may include solar photovoltaic, which generates electricity and solar thermal, which heats water. It can also include hybrid, "water-cooled" systems and photovoltaic panels that generate hot water as a byproduct.
Estimates show that a commercial-building-scaled 20 kW photovoltaic/thermal hybrid system costs approximately $200,000 to install.
A solar system will likely take decades to recoup savings that equal the initial cost. With a combination of currently available incentives, however, payback can be yielded in periods of less than 10 years.
In 2011, a project on West Cross used 28 LED fixtures in the new streetlights. This is expected to save the city over $3,500 a year in energy and maintenance costs.
A typical streetlight upgrade costs $600-$700 per fixture, including hardware and installation. Replacing all DTE-maintained streetlights at this rate would cost a total of $1.1 million.
If Ypsilanti's entire inventory of street lighting were upgraded, the city could save $160,000 annually.
Murphy pointed out that EMU, which occupies a quarter of the city's total land area and 40 percent of the city's total daytime population, has incorporated energy efficiency measures into its recent capital projects.
The various energy-related improvements the university made while renovating its Mark Jefferson Science Building is expected to save nearly $400,000 in annual operating costs and eliminate more than 3,000 metric tons of carbon dioxide.
By doing things like this and implementing energy efficient devices such as lighting retrofits and promoting building lighting sensors, Murphy believes the city can reduce costs and its carbon footprint.
Lighting retrofits are often in the range of $60 per 1,000 square feet of buildings depending on the technology used.
Retrofits can bring energy savings of 15 percent or more.
If 5 percent of the city's commercial and industrial properties undertake lighting upgrades annually, reductions of 4,000 metric tons of carbon dioxide, or CO2e, could be achieved by 2020, officials said.
In addition to retrofits, building light sensors can lead to almost a 35 percent reduction in electricity usage in commercial buildings, with payback of installation costs in less than a year.
Murphy said he is aware that some of these energy efficient devices and installations can be costly but the benefits far outweigh the costs.
"We know that all of these communities have very compelling financial needs and addressing global climate change is not (even) concern No. 200 for any of these communities on their list of priorities," he said.
Murphy said the goal is to help communities reduce the amount of energy usage while lowering costs.
"The intent is to help and prioritize instead of chasing everything at once," he said. "We have to figure out where to focus attention strategically."
Murphy said he has received a lot of feedback from the community—including city officials.
"Some of the recommendations we're presenting in the drafted plan come directly from suggestions that city council members and planning commission members had early in the process," he said. "We've spent a lot of time working in the community have gotten a lot of interest and positive engagement."
Murphy presented the plan to city council at its June 5 meeting. Council may choose to adopt the plan during its next meeting on July 17. To view the proposed climate action plan in its entirety, click here.
Katrease Stafford covers the city of Ypsilanti for AnnArbor.com. Reach her at KatreaseStafford@annarbor.com. You can also follow her on Twitter.