Posted on
Tue, Nov 29, 2011 : 5:58 a.m.
Owner of business hit during string of Ypsilanti burglaries continues to look forward
By Kyle Feldscher
The owner of beezy's cafe, one of the businesses struck during a string of break-ins in downtown Ypsilanti, said it's important to keep operating normally after becoming a victim.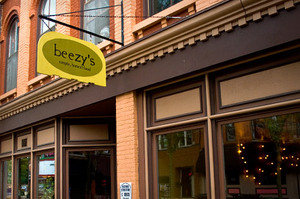 Courtesy of beezy's cafe
Bee Roll said Monday the incident, which was among seven recent burglaries between Nov. 21 and Sunday, "stings financially and emotionally" but has galvanized her to be more involved with Ypsilanti. Beezy's cafe is located at 20 N. Washington St.
"It's a motivating force to get involved and engage in the community on a different level," Roll said via email, "whether through neighborhood watch type things or volunteer police corps activity/classes."
Ypsilanti police executed a search warrant Sunday afternoon at an apartment on South Washington Street as a part of the investigation into the burglaries at downtown Ypsilanti businesses. Det. Sgt. Troy Fulton, of the Ypsilanti Police Department, said the evidence recovered from the apartment links a 30-year-old man to at least three of the burglaries.
Cash and other items have been taken from at least five businesses where successful break-ins occurred, Fulton said. Attempted break-ins occurred at two other businesses. The businesses were located on North Washington Street, South Washington Street, West Michigan Avenue and Pearl Street, according to police
Fulton said Monday afternoon that no one had been arrested in the case. He was unable to be reached Monday evening.
Roll said she hasn't been able to get a sense of how the business community in downtown Ypsilanti is reacting to the burglaries due to the holiday season and keeping the business running smoothly after the incident.
She said she's focusing on keeping the spirits high among employees at the cafe during a very busy week only made busier because of the burglary.
Changes in security measures will be coming to the store, Roll said, but she said business would continue as usual. She said Ypsilanti continues to be a place with many positive things going on.
"I'm far more interested in engaging our community on a broader level to create and nurture a positive environment where crime doesn't need to be an option," Roll said.
Kyle Feldscher covers cops and courts for AnnArbor.com. He can be reached at kylefeldscher@annarbor.com or you can follow him on Twitter.