Posted on
Thu, Feb 23, 2012 : 7:22 p.m.
Pete Hoekstra, Herman Cain return to Ypsilanti Township's Big Sky Diner
By Tom Perkins
At Ypsilanti Township's Big Sky Diner on Thursday afternoon, Dennis Bozung wore a T-shirt with a red circle and cross over Barack Obama's name. Below it, the shirt read "End the Obamination 2012" and "Vote like your life depends on it."
He was among the many energized Tea Party members who came to see former U.S. Rep. Pete Hoekstra campaign with former presidential candidate Herman Cain.
Hoekstra is running for the U.S. Senate seat held by Senator Debbie Stabenow, and it's the third time he has stopped at Big Sky on Ecorse Road. He said he was on home turf at the diner, which hosts the Willow Run Tea Party Caucus meetings every Friday evening.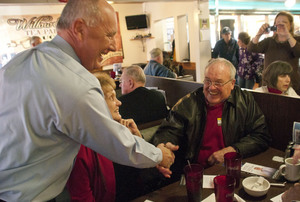 Tom Perkins | For AnnArbor.com
Bozung manufactures political T-shirts in Brooklyn, Mich., and, like many others at the rally, he said it's important for him to have a fiscally conservative candidate representing Michigan.
That candidate, he said, is Hoekstra.
"That's key and that's what's on everyone's mind," Bozung said. "We need a conservative to step up and take charge of the economy in Michigan."
Ann Arbor resident Dwight Bornemeier echoed Bozung's thoughts.
"You need to be able to pay for it before you can get it, and if you don't have enough money, then you shouldn't even want it," he said.
His wife, Jean Elder, said she was concerned that Stabenow was simply voting lockstep with liberal senators from the northeast.
"We need a senator who cares about issues in Michigan, not somebody who is looking to the northeast block of senators and asking "What are you going to do?" she said.
But Hoekstra and Cain devoted little of their time to Stabenow, instead taking aim at Obama and his policies. Hoekstra questioned what the president was doing about rising gas prices and said he would work to increase coal, nuclear and natural gas production, as well as take advantage of North American oil reserves.
He said he would also work to repeal "Obamacare" and push for deregulation that he claims would open the door for job growth.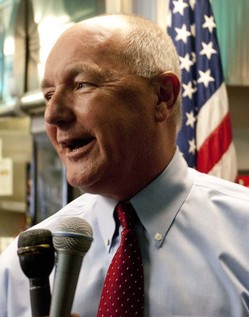 Tom Perkins | For AnnArbor.com
Hoekstra came under fire recently for his controversial campaign aid featuring an Asian woman riding a bike along what appeared to be a rice paddy and speaking in broken English while she thanked "Debbie Spend It Now" for spending so much U.S. money in China. The Hoekstra campaign has since said they were phasing out the ad.
Cain, who was a frontrunner in the Republican presidential field until his campaign was engulfed in scandal over alleged affairs he had outside his marriage, focused on the need to beat Obama and sought to energize the crowd. He said old guard Republicans, Tea Partiers and conservatives all need to get behind the nominated candidate and "be prepared to engage in a struggle over the next eight months."
"Even if your favorite candidate doesn't get the nomination, get over it," Cain told the crowd of around 75.
"The mission is to beat Barack Obama," he continued to loud cheers. He later added several times voting for Obama is "stupid."
Cain last campaigned at Big Sky as a presidential candidate in November.
Ypsilanti Township resident Edward Crislip is unemployed after losing his job at the former General Motors Willow Run plant. He questioned what Hoekstra would do to bring jobs back to Ypsilanti Township.
Hoekstra replied by pounding on his deregulation theme.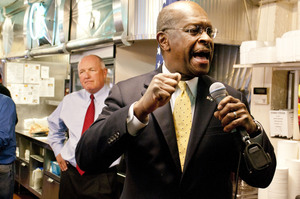 Tom Perkins | For AnnArbor.com
"Get government out of the way of business and you'll be amazed at what this country looks like in two years, in four years," he said.
Crislip, who didn't know much about Hoekstra and was there more to collect information, said he approved of the response and liked that the politicians were paying attention to Ypsilanti Township.
He said the Obama administration's policies were behind the loss of manufacturing jobs.
"(Deregulation) needs to be done," Crislip said. "We were once a great manufacturing town and now there's nothing left. That hurts all the businesses."
Pittsfield Township resident Denise Schlotz is a member of three Tea Party groups but she also knew little about Hoekstra until the rally. She said she liked what she heard, especially with Hoekstra's views on oil and energy, but she added that the Cain endorsement was the clincher.
Schlotz also said she was "definitely in favor of getting rid of Debbie Stabenow."
"She's been in there a long time and done nothing to effect change," Schlotz said.