Posted on
Wed, Jun 12, 2013 : 2:50 p.m.
Police confirm 2nd Washtenaw County death stemming from last week's heroin overdoses
By Kyle Feldscher
Ypsilanti police confirmed Washtenaw County's second recent death involving heroin, stemming from last week's string of overdoses.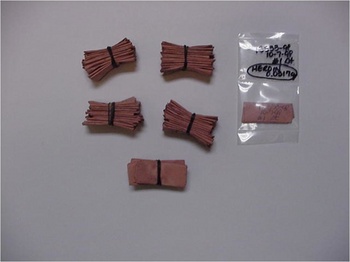 Courtesy of the Washtenaw County Sheriff's Office
Detective Sgt. Thomas Eberts said Wednesday a 30-year-old man was taken off life support Saturday, two days after he was transported to the hospital. Eberts said the man had heroin and a "high level of alcohol" in his system at the time of his death.
"His cause of death is pending; we're waiting on the toxicology reports," Ebert said.
Huron Valley Ambulance officials said the man was taken in critical condition at 1:08 a.m. Thursday to St. Joseph Mercy Hospital. He was taken off life support on Saturday, Eberts said.
Police and medical officials said eight people were treated for heroin overdoses, or heroin-related conditions, on Thursday and Friday. Saline police previously reported a 27-year-old man died at a Saline apartment the day after being released from rehab.
The investigation into the Saline man's death continues, but police believe he died of a heroin overdose. Drug paraphernalia was found following his death.
Toxicology reports are being done on the bodies of both men. The reports typically tend to take weeks to complete.
In the last few years, heroin has become a growing problem in Washtenaw County and southeast Michigan. The drug's low price makes it a cheap alternative to prescription opiates, which have become increasingly popular in recent years. Officials say heroin addicts usually become addicted to prescription pills before seeking a cheaper alternative.
Medical and police officials reported overdoses in Ann Arbor, Saline, Pittsfield Township, Ypsilanti and Ypsilanti Township on Thursday and Friday. Officials said eight heroin overdoses in two days was an extremely rare occurrence.
Eberts said there's been talk in police circles recently about an increasing drug problem in the Downriver area that might be stretching into Washtenaw County.
"There's some stuff going around that they have a big problem Downriver with some overdoses," he said. "The stuff's just nasty to begin with."
Kyle Feldscher covers cops and courts for AnnArbor.com. He can be reached at kylefeldscher@annarbor.com or you can follow him on Twitter.