Posted on
Wed, Feb 6, 2013 : 4 p.m.
Scholarship fund established in memory of Julia Niswender
By Katrease Stafford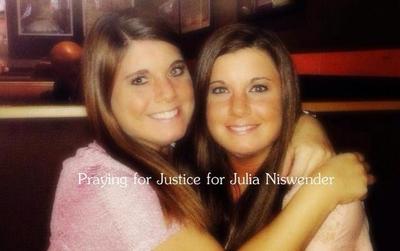 Courtesy photo
The family of Julia Niswender has set up a scholarship fund at Eastern Michigan University in memory of her.
The EMU student was found dead in her apartment in December and police are still investigating the death, which was ruled a homicide.
Jennifer Niswender, Julia's twin sister, said the scholarship is in Julia's name and will be available for EMU students who are twins.
"We are encouraging anyone who just wants to donate to do that through the bank fund that is set up," Jennifer said.
The Julia Niswender fund, which is also being called the Justice for Julia fund, is set up through the Monroe Bank and Trust . An employee at the bank said those who do not live in the area can send in checks or money orders to 102 E. Front, Monroe St., Monroe Charter Township.
Jennifer Niswender said she and others will be at EMU from 10 a.m. to 3 p.m., next Friday, Feb. 15 and Saturday, Feb. 16 from 11 a.m. to 3 p.m. in the Student Center located at 900 Oakwood St. to accept donations.
Justice for Julia T-shirts and bracelets are also being sold, with all of the profits going into the scholarship fund.
"We are doing this at EMU next week because we haven't been able to get up there with them yet," Jennifer said. "A lot of people in Monroe have them, but EMU was such a big part of Julia's life, so we want people up there to have them, too."
Julia Niswender, a Monroe High School graduate, was 23 when she died. She aspired to go into the field of electronic media and film and met journalist Anderson Cooper during a trip to New York that she cherished.
"She so badly wanted to finish school because she wanted to pursue her dreams," Jennifer Niswender previously told AnnArbor.com.
Communication, Media & Theatre Arts Department Head Kathleen Stacey said the family announced its plans to create a fund at an event held on campus earlier this year. Stacey said her department has already set aside $500 for the scholarship and is continuing to raise more money for it.
Stacey said she is hopeful the scholarship can be awarded to a student by the next fall semester. EMU students have also been raising funds for the scholarship.
Stacey said Julia Niswender was one of her students and the department decided to donate toward the fund because of the effect she had on other students and professors.
"We miss her," Stacey said. "Julia was a major and minor in the department and on the day we found out about Julia, we found out about a part-time lecturer who passed away as well. Everyone was so heavy hearted."
At an EMU event, Niswender's mother talked about the fact that education was important to her daughter, Stacey said. So, she hoped establishing a scholarship would enable others to pursue a degree.
"Everybody could feel the sorrow, so we wanted to make sure we did something," Stacey said. "No one even thought twice . ... She had that kind of outgoing personality where you would know Julia was in your classroom in the best way possible."
Details for the scholarship fund, including when the applications may open, are still being worked out. More information will be made available in a few weeks.
Katrease Stafford covers Ypsilanti for AnnArbor.com.Reach her at katreasestafford@annarbor.com or 734-623-2548 and follow her on twitter.