Posted on
Tue, Jun 11, 2013 : 5:54 a.m.
'Best Burger' winner Sidetrack Bar and Grill remains a Depot Town anchor
By Katrease Stafford
Ypsilanti's Sidetrack Bar and Grill has been a Depot Town anchor since opening in 1979 and with more than 800 hamburgers sold on a daily basis, the demand continues to grow.
"On a busy day, we shoot up to over 1,000," said Sidetrack Bar and Grill owner Linda French. "I started this business when I was really young, so I've grown up with my customers. We have a huge, huge customer base."
That demand translated into a recent accolade for Sidetrack, as it was named the best burger in Washtenaw County in a recent AnnArbor.com poll.
Sidetrack, located at 56 E. Cross, edged out Ann Arbor favorite Krazy Jim's Blimpy Burger, winning with 1,277 votes cast. Blimpy Burger held on to a solid second-place finish with 938 votes. Wurst Bar in Ypsilanti came in third place with 509 votes.
MLive statewide entertainment reporter John Gonzalez will be stopping in Ann Arbor and Ypsilanti to sample some of the best burgers Wednesday afternoon as he conducts his search for Michigan's Best Burger.
The honor isn't a first for Sidetrack. In 2005, it was rated one of the nation's 20 Best Burgers by GQ Magazine.
"They called us from New York and said get ready to be busy," French said. "We thought it was a joke."
Of all of the order tickets received on a daily basis at Sidetrack, at least 95 percent of them have a burger request.
Some customer favorites include the Amtrak Double Decker Cheeseburger, which is layered with two four ounce hamburgers, three pieces of cheese, and lettuce and tomato.
Another favorite is the Portabella Burger, grilled and marinated portabella mushroom with grilled red sweet onion, served on a toasted whole wheat bun topped with lettuce, tomato and provolone cheese.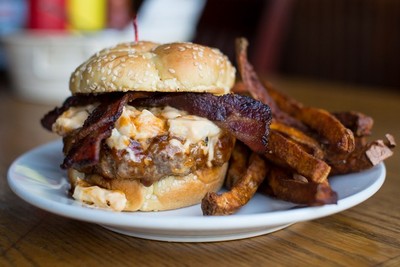 Courtney Sacco I AnnArbor.com
French attributes the steady growth and demand to her staff, who she says work tirelessly. Sidetrack's head chef, Noe Reyes, is key to the success of the business, French said. Reyes is responsible for training all of the cooks.
Only select employees are allowed to grill, French said.
"It's truly all about the staff," she said. "It's just amazing. The key to a really good burger is having someone who knows how to run a grill. The reason no one's been as successful in cooking burgers is most of our cooks have been here for 5 to 20 years. In order to get 'grill master' on the back of the shirt, you have to be able to grill."
The beef used for the hamburgers originates from a proprietary blend from Hillers Market, which comes in fresh on a daily basis. Reyes said every burger is formed in the kitchen and not pre-made into patties.
"We get it delivered here fresh every day," French said.
The freshness of the meat is coupled with the taste of the buns and the eagerness of employees to accommodate nearly any topping a customer requests, but French declined to reveal the ingredients or where the buns come from.
"It's kind of a secret," French said. "We have a variety of buns."
While the increase in demand for the burgers has been a good thing for the business, it has also spurred the need for more space and a larger grill, French said.
"We need a bigger grill and we are out of space," French said.
Due to the lack of space within the kitchen, French said her employees come in to work in shifts.
"The way it is right now, we have guys that start at 6 a.m. and they make soups and sauces," French said. "Then preppers come in and they leave and the grillers and cooks come in and leave. We don't have enough space. The new kitchen is going to be key to doing faster service."
For a well-done burger, the average wait is between 15 to 20 minutes since they're cooked from scratch. French expects that number to be chopped in half with the new kitchen and grill.
"We'll be able to rotate the burgers faster," French said, as well as have more than one person using the grill at a time.
French said once two people are able to use the grill at a time, she believes each would be able to grill about 75 a piece.
French said she's near the end of the planning stages to begin remodeling the restaurant to include a larger kitchen and grill. The kitchen is about 600 square feet now and French expects that to nearly triple after the renovations. The grill would be about twice the size.
The kitchen construction will likely begin this summer, French said.
The renovations are part of a larger $1.2 million renovation and expansion project that will add nearly 15,000 square feet to the business and some additional notable additions.
French purchased the adjacent building at 52 E. Cross St. in June 2012 for $350,000 from King C &C,LLC to add to her existing 10,000-square-foot building. The building was previously occupied by Bird Brain, which has since relocated.
Upon completion of the project, French said Sidetrack will permanently hire at least 30 individuals ranging from servers, kitchen staff, bar staff, managers, marketing staff, etc.
French said her customer base ranges from local residents to out of state visitors who heard about the restaurant and wanted to try it out while in the area. French said she receives a lot of traffic from travelers from the Detroit Metropolitan Wayne County Airport.
The restaurant seats 250 patrons and that number increases when the outdoor patio opens during the summer season.
"Depot Town is just a great area to be in because we have a lot of parking, it's easy to get to, and there are other places to shop in while you're down here," French said. "The biggest thing is we're anchored by the Ypsilanti Automotive Heritage Museum, and the Michigan Firehouse Museum, which bring us a lot of business. People come from all over for those world-class museums and being anchored between them is pretty good."
Sidetrack will likely be a mainstay in the Ypsilanti community for years to come, and French said it's in part due to the loyal customers.
"We have wonderful customers and incredible staff," French said. "I enjoy coming into our business because we have such great customers."
Katrease Stafford covers Ypsilanti for AnnArbor.com.Reach her at katreasestafford@annarbor.com or 734-623-2548 and follow her on twitter.