Posted on
Tue, Dec 25, 2012 : 5:56 a.m.
Ypsilanti relief agency volunteers: The work we do is crucial in helping the less fortunate
By Katrease Stafford
File photo
Two Washtenaw County organizations, Hope Clinic and SOS Community Services, help thousands of families each year, but none of the work would be possible without the hundreds of volunteers that donate their time.
Margaret Gibbons, 45, has volunteered for the past year and a half at SOS. Gibbons volunteers in the summer Sunny Days program, which provides eight weeks of activities for nearly 30 homeless children enrolled in area shelter programs or transitional housing in Washtenaw County.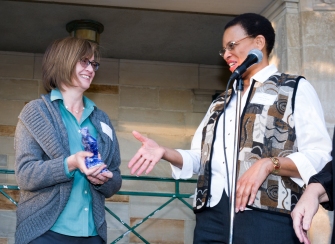 Courtesy SOS Community Services
Sunny Days provides children, ages 6 -12, a structured environment to address the traumas of homelessness, substance abuse, and domestic violence within their families, according to SOS.
The children also work on their literacy skills by reading and participating in book clubs through local libraries.
The children also participate in a weekly social skills group, where they learn about positive communication, problem-solving, conflict resolution, anger management and teamwork. The program also aims to reduce family stress during the summer months by freeing parents to work toward long-term employment, obtaining permanent housing, or attending chemical dependency treatment programs.
Gibbons also volunteers in the SOS after-school tutoring program during the school year to address the children's academic needs during the school year. Children in grades 1-8 are paired with a volunteer for one-on-one academic assistance. Gibbons volunteers twice a week at Adams STEM Academy in Ypsilanti at 503 Oak St.
"We just had a group of first graders and they're excited to get just one book," she said.
In October, it was announced that the number of school librarians within the Ypsilanti Public Schools district were being cut back to one, overseeing five schools. Gibbons helped gather volunteers to help keep the library going so the children could continue to develop their literacy skills.
Gibbons said over time, she has started to develop a relationship with the children.
"You see the kids developing and sort of calming down and becoming more trusting and just more cheerful and less anxious, angry," Gibbons said. "They still have rough days because they have so much going on."
Gibbons said the programs are vital in helping the children gain stability and normalcy in their lives.
"These kids move around a lot," she said "Once they get to SOS, they are a lot more stable. Some of the kids that come to camp are also coming from Safehouse and I'm really concerned with them falling behind in school. I want them to have a good start."
Gibbons said its usually two children to one volunteer.
"We develop their confidence and that level of attention to those kids is rare in their lives," Gibbons said. "We don't push them and if they're behind we don't want them to feel worse, but we want them to be challenged and to just feel positive about reading."
Gibbons said the children seem to appreciate the attention and usually thrive in the environment.
"If you just keep showing up and you're happy to see the kids, they connect with you," Gibbons said. "They're just so happy to have an adult that cares about them. The SOS kids, they're loved."
SOS Community Services averages between 400 and 500 volunteers per year, who help assist the many various programs.
Lois Beerbaum,73, has volunteered for Hope Clinic for the past five years predominately at the clinic's satellite Wayne location at 33608 Palmer Rd., in Westland. Beerbaum helped start the pharmacy at that location. In 2011, the clinic saw more than 1,000 patients utilize its services.
In total, including both the Ypsilanti and Wayne locations, in 2011, Hope Clinic provided 6,800 medical and 4,500 dental visits, filled $2.6 million worth of prescriptions, served 5,113 hot meals and gave out 12,466 bags of groceries to people in need.
In a given month, Hope has in total about 500 volunteers and more than a 1,000 each year.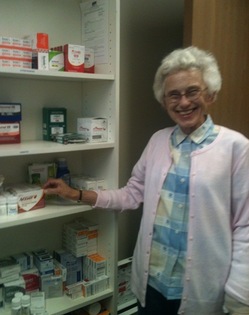 Courtesy Hope Clinic
"Our pharmacy obligation in our clinic is to procure unaffordable medication for our patients without insurance," Beerbaum said. "Most of our patients are without insurance or very low income."
Beerbaum had some training at the Ypsilanti location and then transferred to the Wayne location to help an underserved population of individuals in the Belleville, Canton, and western Wayne County area.
For years, Beerbaum was a medical technologist and when she retired, she wanted to continue to do more for the community in the health field.
"I have a very close affinity for anything going on in healthcare," Beerbaum said. "This was just a different angle on working with patients and helping them."
The clinic, which is open twice a week, gets a bit hectic in the winter time, according to Beerbaum.
"Some of our patients have been with us for all five years," Beerbaum said. "They get to know you, especially me. I'm the constant. There's a lot of patient interaction and connection with staff."
Beerbaum said all of the patients are grateful to have the opportunity to obtain healthcare. Beerbaum recalls several individuals who were able to obtain life saving medicine because of the clinic.
"We had a young man who had juvenile diabetes and he wasn't eligible for healthcare," Beerbaum said. "He came to the clinic and managed to get all of his insulin."
That young man is now 21 and came into the clinic recently to thank Beerbaum for helping him obtain his medicine.
"They (his family) came in with a bouquet of flowers for me," she said. "That tells me how appreciative people are. People don't do that all the time, but there's a lot of thankfulness. This is one volunteer job where you have immediate gratitude and it just makes you want to come back."
Although they volunteer at different locations, both Gibbons and Beerbaum believe that volunteering is something necessary. Last calendar year, the SOS emergency food program served 7,390 people, 39 percent of which were children. SOS also received 11,845 requests for food.
"Looking at what's been happening to our schools and the price the kids have to pay, just do something to help them," Gibbons said. "Even if its for a few hours, just for them to be around some relaxed happy adults, it encourages them."
"It all goes together," Beerbaum said. "You know you're helping someone else and you can see the gratefulness come back. That's what we're asked to do. It can be a nice circle in that, you help and the good feeling comes back."
Katrease Stafford covers Ypsilanti for AnnArbor.com.Reach her at katreasestafford@annarbor.com or 734-623-2548 and follow her on twitter.