Posted on
Mon, Feb 25, 2013 : 3:53 p.m.
Ypsilanti streetlight special assessment district: EMU likely to be largest payer
By Katrease Stafford
Eastern Michigan University and Ypsilanti residents may soon be paying an annual fee to help cover electricity costs, as the city continues to pursue a special assessment district.
The average resident could pay approximately $52 this year and about $66 each year up until 2022. EMU, the city's largest parcel holder, will pay the most if the district is established.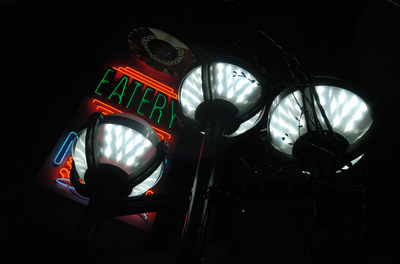 AnnArbor.com file photo
Within city limits, there are 4,951 parcels and close to 40 percent of the city's land total is property tax exempt, some of which is accounted for by EMU.
City officials declined to say how much the university could pay each year, but said those numbers will be revealed Tuesday at a 7:30 p.m. city council work session.
City Manager Ralph Lange previously told AnnArbor.com that EMU will be "the biggest payer."
The city's trunk line-- which includes Washtenaw Avenue, portions of West Cross Street, Hamilton Street, Huron Street, Ecorse Road and Michigan Avenue-- handles between 15,000 and 30,000 cars per day, according to city data. The university is the primary "trip generator," according to Lange.
Earlier this month, the city announced it was pursuing the special assessment district. Lange is recommending the district encompass the entire city.
Lange and staff will present his report before council, outlining the specifics of the district and the exact need for it.
"The purpose of this presentation is to explain what the public purpose is and what we're expecting residents on average to pay," said City Planner Teresa Gillotti.
The city is recommending that the assessment be calculated using the perimeter of individual parcels, combined with a percentage of the total city land.
Future capital improvement costs for upgrading current light fixtures to more energy-efficient measures also will be factored in.
"This method will provide an equitable way of distributing lighting costs across the community, making sure that the cost for street-lighting does not exceed the benefit received," Lange wrote in his report.
There are 1,719 streetlights in the city and the estimated cost for electricity for fiscal year 2013-14 is $523,051. Within these costs are maintenance, operation and replacement fees. Electricity costs for the city have steadily increased since 2010, when the cost was $501,651.
"Though the economy has been slowly rebounding after the Great Recession, many state and local governments are still struggling to fund programs and services at pre-2010 levels," Lange wrote. "The city of Ypsilanti is no exception."
Fiscal year 2008-09 was the last time the city had an overall budget surplus. All of the years after have had a deficit and the general fund is expected to operate with a deficit for at least the next three to four years, according to Lange.
"To avoid this deficit from becoming larger, more cuts or additional revenues need to be identified," Lange wrote.
The assessment fee also will help to pay for the installation and retrofit of streetlights in the future. In 2012, the city started a streetlight conversion program to transition from mercury vapor street lights to LED. The first lights were installed along West Cross Street.
The city has scheduled 260 lights to be converted this year along East Michigan Avenue and Ecorse. The city plans on phasing upgrades of all 1,719 fixtures in eight years. Upgrading all of the fixtures will cost approximately $1.1 million.
Capital improvement costs are estimated to add an additional $133,375 to the assessment each year.
At the March 5 council meeting, a public hearing was scheduled to be held, but Gillotti said that will likely be pushed back due to at least two council members scheduled to miss the meeting.
The tentative timeline for the special district to go into effect, pending council approval, is July 1.
Other cities have established special assessment districts to help cover costs including Flint, Romulus and Garden City.
In Garden City, the average resident pays $35 and in Flint, most pay $66.05 per parcel.
Katrease Stafford covers Ypsilanti for AnnArbor.com.Reach her at katreasestafford@annarbor.com or 734-623-2548 and follow her on twitter.