Posted on
Tue, Feb 5, 2013 : 5:58 a.m.
Ypsilanti to consider special assessment district to cover street lighting costs
By Katrease Stafford
Ypsilanti is exploring the possibility of creating a special assessment district to help cover the cost of its electricity and street lighting. Mayor Paul Schreiber said it potentially could generate about $500,000 to go toward the costs.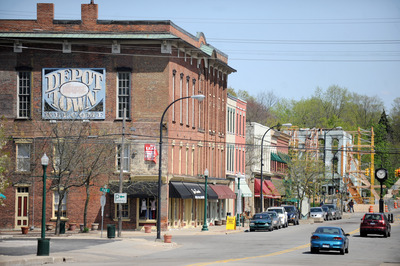 Steve Pepple | AnnArbor.com file photo
City Manager Ralph Lange wrote to city council that the special assessment district would encompass the entire city and levy a fee to pay for electricity costs as well as capital improvements.
According to Lange, the special assessment is being explored because council previously requested staff to proceed with it.
Schreiber said the city potentially could have the assessment cover capital costs and operational costs, although he noted this is just the beginning of the process.
Schreiber said it would be good for the city to consider installing high efficiency LED lights that didn't cost as much to have as the standard ones.
Tuesday, council will consider granting authorization for city staff to move forward with the assessment in order to determine the feasibility and value.
Possible options for the assessment include a flat flee, irrespective of parcel size; fees based upon the average parcel area; or fees based upon the perimeter.
This is not the first time the city has discussed creating a special assessment district. In 2011, city council discussed ways to create more significant budget reductions for the city.
Schreiber said at the time that rough estimates from city staff said the district could generate around $500,000 and cost most residents an additional $85 annually. Schreiber said the talks didn't move forward until now.
Schreiber said while the estimated savings still are roughly the same, he isn't sure if the estimated cost for residents will remain the same or change.
Lange has proposed a tentative timeline for the assessment to go into effect:
Feb.19 - Report by city manager: Presentation of assessment options
March 5 - Preliminary resolution of necessity and public hearing
March 19 - City council approval, directing the city assessor to prepare the roll
Last week of March 2013 - Notices will be mailed to property owners and a second public hearing will be held
April 23 - Either an approval, rejection or changes will be made to the proposal
July 1 - The special assessment district goes into effect
The next step according to a memo sent out by City Attorney John Barr will be for Lange to provide cost projections, the necessity of the project, what proportion should be paid by residents and what proportion should be paid by the city.
In the public hearing, Barr said residents have the right to file objections. If property owners representing more than 50 percent of the expected cost of the assessment file objections, the project may not proceed without the affirmative vote of four-fifths of all of the council members.
Schreiber said he isn't sure if residents will be in favor or against the special assessment. Lighting and electricity is paid for out of the general fund, which is where most of the city's expenses and revenues are located.
"I think voters tend to vote in favor of things they can benefit from," he said. "I think it's probably going to be some objection by people, but how do you make up the $500,000? It's really about how do we get the whole general fund to work?
"The general fund is the one that we're trying to make solvent. This will be a way to provide a revenue source that its tied to a direct benefit that residents get."
Schreiber said he supports the idea of creating a special assessment district.
"If I don't support it, then what is my solution?" Schreiber said. "I supported the income tax twice and that went down in defeat. Voters told us told us they don't want an income tax or Water Street debt millage... At some point, we still need more revenue and this is the only way we can get revenue... The state government is squeezing us and we really don't have anywhere to go."
Katrease Stafford covers Ypsilanti for AnnArbor.com.Reach her at katreasestafford@annarbor.com or 734-623-2548 and follow her on twitter.