Posted on
Sat, Jan 19, 2013 : 5:59 a.m.
Citing free speech rights, Groundcover News defies Ypsilanti Township over ban on paper peddling
By Tom Perkins
In early October, the Ypsilanti Township Board of Trustees told representatives of the "street newspaper" Groundcover News their vendors didn't have permission to sell newspapers in the township.
Three months later, on Jan. 15, vendors working for the paper defied the township board and began selling papers at fast food restaurant exits along a stretch of Washtenaw Avenue in Ypsilanti Township.
Susan Beckett, Groundcover's publisher, says vendors will continue to sell there and told AnnArbor.com the organization is prepared for a legal confrontation with the township. She said barring Groundcover's vendors' from selling could violate their free speech rights and suggested the American Civil Liberties Union could get involved.
By a 6-1 vote at their October 9 meeting, the Board of Trustees rejected Groundcover's request for an exemption to an ordinance prohibiting a wide range of peddling on public property. Officials say the exemption is essentially a "peddlers permit".
Board members expressed concerns that vendors could cause traffic problems, fears that overaggressive vendors would cause conflicts, and doubts about whether the business model would work in Ypsilanti Township, where there is little foot traffic.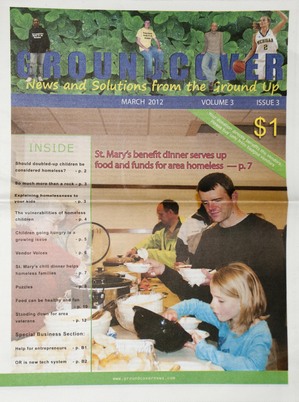 Tom Perkins | For AnnArbor.com
Groundcover representatives said sales would take place on public egresses and sidewalks at exits to fast food restaurants or other businesses along Washtenaw Avenue.
The paper is partially produced by and mostly sold by "housing insecure" residents, which Groundcover defines as people who are homeless, people who are unemployed and at risk of eviction, or people receiving government assistance but still in need of additional income.
Vendors purchase copies of Groundcover from the organization for 25 cents and sell them for a suggested donation price of $1.
Those selling in Ypsilanti Township risk a misdemeanor citation from the Washtenaw County Sheriff's Department, said Mike Radzik, director of the township's office of community standards. But he said the ordinance would be enforced on a complaint basis, meaning ordinance officers would not go out of their way to find Groundcover vendors.
On Wednesday, one Groundcover vendor was selling in the township. Beckett said cold weather makes it more challenging for vendors to sell papers, and there is no downtown area in Ypsilanti Township to provide them with access to high concentrations of pedestrian traffic.
She said that means vendors must attract business from motorists, but she said the borders between municipalities on Washtenaw Avenue are confusing. Groundcover has permission to sell papers in the neighboring areas of Pittsfield Township and the City of Ypsilanti.
"We want our vendors to be able to go to Washtenaw without fear that they are accidentally straying into hostile territory," Beckett said.
She said vendors need to be near each other for safety reasons, and the Burger King just west of Golfside Road on Washtenaw is the only spot along the corridor that is practical for sales in Pittsfield Township. She said the Walgreen's at the corner of Hewitt and Washtenaw is the only good sales position for vendors in the City of Ypsilanti. Leaving those two locations separated by the township creates safety concerns, Beckett said.
"What we want to do is have a nucleus of people out there and nearby, so somebody could text or yell to someone else if there is a problem," Beckett said.
On Wednesday, a Groundcover vendor was selling on the sidewalk at the Wendy's exit on Washtenaw Avenue between Golfside and Hewitt before management there asked the vendor to leave, Beckett said. The vendor moved to the nearby Taco Bell exit driveway, but was unsuccessful because of the weather and logistical issues. But the vendor plans to return to that area at least once a week.
Beckett said Groundcover will help with vendors' legal defense, and that her lawyers told her the ACLU would be interested in the case.
"We wanted to work cooperatively (with the township) and they declined," Beckett said. "There have been many rulings on free speech, which includes the right to distribute papers and to ask for money. It has been well established that those are rights and they can't take them away on public property, which is what (the township) did."
Ypsilanti Township Attorney Doug Winters disagreed that the township was violating any free speech rights and stressed that there were safety concerns over having vendors sell along the busy Washtenaw Avenue corridor.
"I think right now there is a balancing act. I don't think the township did anything that is inappropriate, and it just sounds like they want some engagement with us," Winters said. "It seems like having a court case for the sake of having a court case isn't a good use of anyone's resources."
Radzik disagreed that the township wasn't cooperative and said Groundcover hasn't contacted the township since the October Board of Trustees meeting. At that meeting, board members asked representatives from Groundcover to show their model could be successful in Pittsfield Township and return to the Ypsilanti Township Board of Trustees in a year.
"There was a request to create an exemption to the law, and after consideration the board rejected it. There was nothing uncooperative about the level of discussion," Radzik said.
He said the township's peddler's ordinance is like many other municipalities' ordinances around the country, and the board has granted exceptions to it in the past.
"If Groundcover feels as though the ordinance is unconstitutional for whatever reason, then they should challenge it if they feel it's worth it and in their best interest" Radzik said, adding that the township has worked with the ACLU on other issues in the past.
"We would work with (the ACLU) on this issue and I would welcome them into the discussion," he said.
In response to concerns about borders between the municipalities, Radzik said the border between Ypsilanti Township and Pittsfield Township is clearly defined by Golfiside Road. He said the City of Ypsilanti governs the northeast corner of the intersection at Hewitt Road and Washtenaw Avenue, and Ypsilanti Township governs the other three corners.
"I'd be happy to provide them with a map or they can check the Washtenaw County GIS Web site - it's free," Radzik said.
Around 100 vendors sell in Dexter, Ann Arbor, Pittsfield Township and Ypsilanti. A quarter of those sell daily, according to Groundcover.
The paper was launched in June 2010 and had a circulation of 3,500 several months ago, but that has grown to 6,000. Groundcover, a 501c3 nonprofit, provides vendors with incentives based on the number of papers they sell. Some vendors set up at one spot regularly while others change locations, and most sell during the afternoon and evening. Volunteers with the paper and local community members contribute articles, poetry and essays to the paper.