Posted on
Tue, Jul 24, 2012 : 5:59 a.m.
Superintendent: Pay-less paydays, more cuts in Ypsilanti's future after state denies borrowing request
By Danielle Arndt
Teachers and administrators in Ypsilanti Public Schools may face the prospect of no pay or delayed pay in September. The district also faces a similar serious cash-flow problem in December and in two back-to-back pay periods in January.
This was the somber news Ypsilanti Public Schools Superintendent Dedrick Martin delivered to the Board of Education Monday night.
"And it just gets progressively worse after that," he said.
He also said Monday that if the district is not able to complete a proposed merger with Willow Run Community Schools in timely fashion, the state could appoint an emergency manager by next spring.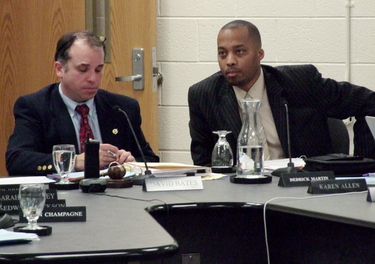 Kyle Feldscher | AnnArbor.com file photo
A bewildered hush hung in the room as Martin spoke softly of the financial troubles, and the board trustees collectively looked at their hands.
Monday's update was the outcome of a string of bad news that the district, already operating in a deficit, recently received. Ypsilanti finished the 2011-12 academic year nearly $10 million in the red.
At the end of June, Martin was notified by Standard and Poor's, a national credit-rating agency, that it considered Ypsilanti Public Schools to be in poor financial standing. The designation will prevent the district from borrowing money from any organization other than the Michigan Department of Education, Martin said.
According to meeting minutes from June 25, Martin had received a similar notification from Moody's Investors Service, which specializes in bond credit ratings, "a short time ago."
Then about a week and a half ago, the MDE informed Martin that based on Ypsilanti's projected revenue loss and decreased enrollment for Fiscal Year 2013, the district's "capacity to borrow" would be less than what YPS had anticipated, Martin said.
It is not uncommon for school districts today to borrow money from the state to make payroll at one time or another during the academic year, due to how the state administers its per-pupil funding.
Martin said Ypsilanti's declining revenue would only allow the district to borrow $12.7 million — about $1.3 million less than it needs.
Ypsilanti Public Schools passed a budget and deficit elimination plan for 2012-13 that assumed a loss of 50 to 100 students and would require borrowing $14 million, the same amount it borrowed last year, Martin said.
"It's like when trying to get a loan on a house. The greater your income, the more money you are able to borrow," he said.
After cutting about $11 million this year already, YPS now must try to find another $3 million or more.
Staff members were informed of the situation about a week ago, Martin told board members Monday. He pleaded with every collective bargaining unit and non-union employee to come back to the table for negotiations — "whether their contracts were settled yesterday or two years ago," he said.
Martin acknowledged the risk in sounding the alarm about staff members not getting paid and possible future wage, salary and benefit reductions, but he stressed the importance of the district operating transparently and with integrity.
"It's emotional," Martin told AnnArbor.com after Monday's meeting. "It is very, very difficult. People pour their hearts and souls into their jobs. … At some point, they have to think about their own livelihoods. … It all just underscores the seriousness of where we are financially."
Martin reported the staff took the news "well, considering." Staff have already agreed to a 10 percent pay cut for the upcoming school year.
"I believe in the resiliency of this district," he said, adding the district is likely facing "significant" additional layoffs and cuts to programs.
Ypsilanti already eliminated about 104 staff positions, nearly 75 through layoffs, for next year. It reduced athletic costs by about $225,000 and closed the pool at Estabrook Elementary School for a savings of $100,000.
However, a number of unforeseen circumstances and missed projections have caused some serious setbacks since the district passed its budget and deficit elimination plan.
Martin informed school board members YPS may be forced to hire back as many as 17 laid-off special education teachers in order to comply with state requirements.
Additionally, the closing of Washtenaw County's Center for Occupational and Personalized Education (COPE) on June 7 resulted in a significant loss in revenue for the district. COPE rented space at Ypsilanti's former Chapelle Elementary School. However, the district may be able to save money on the full-time custodian that was assigned to the building as a result, Martin said.
Also in June, Martin was asked to attend a meeting in Lansing regarding the state of schools on Michigan's Persistently Low Achieving (PLA) list. According to Ypsilanti's June 25 meeting minutes, the MDE is expanding its PLA designation to include more schools. Currently, schools in the bottom 15 percent for standardized test scores are placed on the list.
Martin said all but one of Ypsilanti's schools are in the lowest 15 percent. He was told to set aside funds for mandatory reforms of its PLA schools.
YPS projected being able to slash $600,000 from its transportation costs for 2012-13. However, in a presentation Monday, it became clear that $250,000 was the best officials could do immediately.
Likewise, hiring a joint special education director for both Ypsilanti and Willow Run public schools was anticipated to save the district money. But the plan actually will cost YPS slightly more than it spent to employ its own director.
Martin explained this is because when officials with the Washtenaw Intermediate School District and the two local districts sat down, they determined with the number of combined special education students and the compounding of duties and responsibilities, it might be too much for one person to handle. So officials brought forward a proposal to hire a joint 0.9 FTE interim special education director and a joint 1.0 FTE interim special education administrator for both districts to share.
In total, Monday's joint special education hirings, which were approved by the Ypsilanti school board that night, will cost YPS $135,626 and Willow Run $79,653.
"One person was not seen as feasible. We do believe there are some other savings out there in secretarial costs in this department with using two people," Martin said. "While it is more than we were paying previously, the difference is not that significant."
Board President David Bates said he supported the motion to hire the individuals for a one-year period only because Ypsilanti and Willow Run are working toward a possible consolidation.
"Obviously, this does not meet our goal of projected savings. … If voters don't pass the ballot proposal (to create a new conjoined school district), then I may suggest we re-look at it," Bates said.
School leaders with Ypsilanti, Willow Run and the WISD are in the process of drafting a clear thematic design for the potential new school district that would dismantle the two separate, failing school districts and rebrand them under a single new innovative system of education.
Martin admitted if the two individual school boards do not vote to place the question of consolidation on the ballot or voters do not pass the ballot proposal in the Nov. 6 general election, Ypsilanti Public Schools could be appointed an emergency manager as early as next spring. Given the most recent borrowing information the district received and Ypsilanti's financial outlook for making payroll during the next calendar year, an emergency manager is "absolutely" looming "closer than (district leaders) originally thought," Martin said.
He said he's been working with the WISD and the MDE to brainstorm what resources are available to assist the district. He added he does not want to cause fear or to elicit panic among employees; however, he wants to be upfront with the staff. He said district officials are eager to hear new ideas for cuts or savings from teachers, administrators and the public.
Staff reporter Danielle Arndt covers K-12 education for AnnArbor.com. Follow her on Twitter @DanielleArndt or email her at daniellearndt@annarbor.com.