Posted on
Fri, Mar 29, 2013 : 11 a.m.
Contract for superintendent services between Ypsilanti schools and WISD is approved
By Danielle Arndt
Previous coverage:

Related story: Consolidated school district to house grades 5-8 in Willow Run, high-schoolers in Ypsilanti
Editor's note: Additional information has been added to the story to further explain the compensation aspect of this arrangement.
The joint Ypsilanti-Willow Run Board of Education approved a cooperative agreement Thursday with the Washtenaw Intermediate School District for WISD Superintendent Scott Menzel to serve as the leader of the new consolidated district.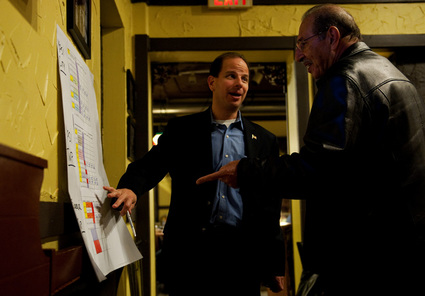 Daniel Brenner | AnnArbor.com file photo
Ypsilanti Community Schools
will compensate the WISD $60,000 per fiscal year for Menzel's services during the merger transition, according to the agreement.
Menzel said the WISD board has not modified his contract yet to reflect what portion of this amount he will receive, but what has been discussed is 20 percent of his base salary, which for the 2012-13 academic year is $156,500. His salary will increase to $160,000 on July 1.
He said the agreement amount was calculated based on a percentage of his time and the total cost of his contract, including what the WISD is required to pay in to the Michigan Public School Employees Retirement System and for FICA, et cetera.
The contract was passed unanimously at Thursday's school board meeting with little discussion. It will become effective July 1 and expire on June 30, 2015, at which point it is expected Menzel will return to his role at the WISD and there will be a new plan in place for obtaining a superintendent of YCS.
There are clauses in the cooperative agreement for early termination if the arrangement is not working out, said board President David Bates. Other provisions outline how the WISD and YCS will handle conflicts of interest, disputes and shared information and duties.
Menzel's base for carrying out his YCS duties also was addressed in the agreement. He will be required to perform administrative services pertaining to Ypsilanti Community Schools at the district's administrative offices. He also will be required to visit the schools and programs of the new district as he deems appropriate or necessary. Menzel will be permitted to conduct business affecting both the WISD and YCS, such as attending conferences or drafting grant proposals, at either administrative office, the WISD's or YCS's, according to the contract.
Menzel, who could not attend Thursday's meeting, told AnnArbor.com in a phone interview that Washtenaw County is breaking new ground with this agreement. He said because there was not a model out there of how to do this, a great deal of care was taken to structure the arrangement in a way that ensures there are not conflicts of interest.
Menzel said the only real concerns that exist about this arrangement center on time and "how to manage all of the things on my plate."
"But I've been actively involved in a very deep way in the consolidation throughout the past year and working closely with the board to facilitate a great many things already pertaining to the merger, so in a way this is just a continuation of that work and time commitment," he said.
An important next step will be determining how to structure the roles and responsibilities of the new district's central office team, he said, adding he has given much thought to how best to structure the administration and hopes to make that information more public after spring break.
"At the end of the day, it's really about being able to make a difference in the Ypsilanti Community Schools and in the larger community," Menzel said of his new position. "These were two districts that desperately needed to hit the reset button. And (the WISD and I) have committed to do whatever it takes to make that a reality. And that's exciting work to me.
"The WISD has operated in a facilitative role and has been a supportive player since the onset of the merger discussions. This (contracting for superintendent services) is a little different role than we envisioned, but we're willing to do it because we want this to be successful."
The joint Ypsilanti-Willow Run board approved pursuing a contract with the WISD for superintendent services at its Feb. 25 meeting, while retaining current Ypsilanti and Willow Run superintendents Dedrick Martin and Laura Lisiscki, respectively, as associate superintendents under Menzel.
It was a controversial move that angered many in the large crowd of approximately 180 people who attended the meeting that night. After the meeting, Bates explained the board has been impressed with the work that's been completed so far by the team of Lisiscki, Martin and Menzel.
"The board wants to see the progress continue and doesn't want to do anything that might jeopardize that progress in any way. The board decided that was the most important decision … keeping the leadership team intact," he said on Feb. 25.
Danielle Arndt covers K-12 education for AnnArbor.com. Follow her on Twitter @DanielleArndt or email her at daniellearndt@annarbor.com.