Posted on
Tue, May 7, 2013 : 12:15 p.m.
Superintendent: Ypsilanti schools cautiously reviewing 'exceptions' in teacher hiring process
By Danielle Arndt
Previous coverage:
School officials reflected Monday at the joint Ypsilanti-Willow Run Board of Education meeting on the recent teacher hiring decisions and how to proceed with reviewing and evaluating the process.
Bob Galardi, the retired Ann Arbor Public Schools administrator whom the Ypsilanti Community Schools district recruited to head the teacher selection committee, attended Monday's board meeting to answer any questions school trustees may have about the re-hiring process.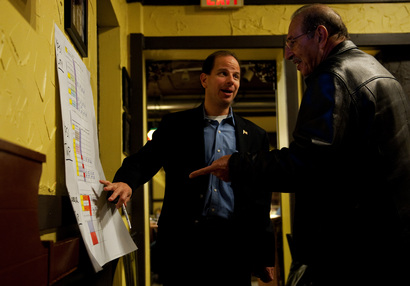 Daniel Brenner I AnnArbor.com file photo
The biggest questions board members had were what was the committee doing now that the notifications were sent out to review the procedures and handle concerns from parents or employees, as well as whether there would be a formal appeal process for individuals who were not issued intent-to-hire letters.
School officials issued notification letters to 258 teacher applicants Friday afternoon. A total of 171 teachers from both district were told they would be hired back.
Of the 73 teachers who applied from Willow Run Community Schools for a spot in the consolidated district, 43 people, or 59 percent, were given a "yes." In Ypsilanti Public Schools, 183 people applied and 126, or 69 percent of the applicants, were offered positions.
A three- to four-person team lead by Galardi interviewed all 258 candidates between mid-March, when applications were due, and the end of April, to be able to notify teachers by May 3 of their status in the new district.
Washtenaw Intermediate School District and YCS Superintendent Scott Menzel said the compressed timeline was established primarily because of feedback from teachers who said they needed to know as soon as possible so they could make other arrangements. Originally, the new district did not intend to notify teachers until June when school was out to avoid distracting students.
"We were very intentional, even though it was a compressed timeframe," Menzel said.
Willow Run Superintendent Laura Lisiscki and Board of Education President David Bates commended teachers for maintaining high levels of focus and professionalism Monday, the first day back since the notices went out. Bates said it's a tremendous credit to the teachers, who were able to show up and be there for their kids, despite the personal and emotional hardships.
"I visited all of the schools in both districts today. ... It was business as usual," Lisiscki said.
Galardi said the teacher selection committee made sure every letter — whether a "yes," "no" or "maybe" — was supported by documentation. All candidates will be given an opportunity, if requested, to review the materials used in their individual determinations, he said.
Candidates with concerns about the letters and with specific questions about why and how a determination was made can contact Galardi directly.
"I'm happy to talk to them. ... I'll give time to anybody who wants to review it with me. These are important decisions and I recognize this," he said.
School board member Maria Sheler-Edwards asked whether there would be a formal appeal process for teachers interested in arguing a decision that was made.
Menzel said the term "appeal" is not one he has heard come up very frequently; and if a process were developed, it would need to be cleared through the new district's legal counsel. Galardi said if the superintendents and administrative staff deemed it necessary and appropriate, and feel it would not take the committee outside of its good processes, then he would begin this week working with the attorneys.
"We want to do right thing," he said.
The problem with appeals is "there are a fixed number of jobs going into next year that we've planned for," Menzel said. "... We can't go above that for budgetary reasons.
"... So if you are going to take appeals, in a traditional sense, then who are you going to take off the list? You'd then have a whole other set of appeals there."
Menzel said, right now, officials are reviewing the process itself to see if there were any aspects of it that would explain why some people didn't even get a "maybe" letter when perhaps they should have.
"We're investigating that to see if there is something else that we missed that might be an explanatory variable," he said. "People are raising questions about how could this teacher not have been selected and here's why we believe that something was missed in this process. ... Those cases we're going back and looking at.
"We're looking at the specifics of the scoring, just to make sure that the integrity of the process is defensible across the board because that's absolutely crucial."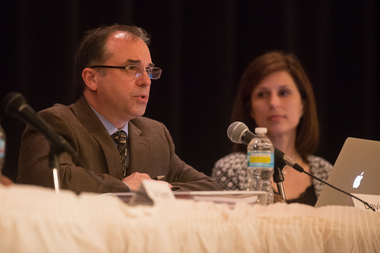 Courtney Sacco I AnnArbor.com file photo
Menzel reiterated that no hiring process is perfect. He said largely, the best teacher candidates were selected, with possibly a few exceptions. The exceptions are what officials are investigating now — very cautiously, he said.
"We have to look at the process and evaluate. ... It's hard to say that the process was carried out consistently across the board, and now we'd consider changing the rules for some people afterward. To do that would throw it all into question," he said. "So we have to be very careful, from a legal perspective, about how we proceed. So we're going to go back and review, and then make decisions (on a potential appeal process)."
Two teachers from Ypsilanti Public Schools attended Monday's joint Board of Education meeting to share thoughts on a few excellent teachers that they felt were unfairly dismissed in the re-hire process, including Krista Boyer, a kindergarten teacher and the current YPS teachers union president, who was given a "maybe" letter. The maybes are contingent upon state funding and student enrollment.
Parent Tamara Larson said she cried and it "broke her heart" when she learned Boyer would not be coming back. She said Boyer is one of the most caring teachers she has ever met. She told how Boyer purchased coats, boots, scarfs and mittens for some homeless students in her class at Christmas time using money from her own pocket.
"Shame on you. You've robbed these kids of some amazing teachers," Larson said. "I hope those of you who made the decisions sleep good at night."
Bates thanked these parents for coming to the meeting Monday, stating it was a good reminder for the board of how personal and tough decisions like these are.
"It's an opportunity to sit back, reflect and think about what these decisions mean," he said. "There have been many cases and times in the past ... where we, as school boards in both districts, have avoided making difficult decisions, not necessarily related to hiring, per say, but the fact is that (avoiding) has resulted in the situation we're in now.
"As board members, there is a lesson for us to be learned here."
Danielle Arndt covers K-12 education for AnnArbor.com. Follow her on Twitter @DanielleArndt or email her at daniellearndt@annarbor.com.