Man accused of blinding Ypsilanti man with pellet gun may go to boot camp
Posted on Tue, Mar 5, 2013 : 9:30 a.m.
The 23-year-old Ypsilanti man accused of shooting a 53-year-old man in the eye with a pellet gun last August was sentenced to more than two years in jail, but may go to boot camp instead.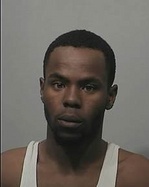 Courtesy of the WCSO
Judge Darlene O'Brien
sentenced
Antonio Frank Thomas
on March 4, to serve between 32 and 120 months of jail time for one count of assault with intent to do bodily harm.
The sentence was reduced from the standard 36 to 120 months, as requested by Thomas' attorney, Michael J. Vincent, so Thomas could remain be eligible for boot camp.
Vincent said he believed boot camp would be more appropriate for him than jail because Thomas had led a clean life until recently, having graduated from high school and attending a university in Ohio for a semester before returning home for undisclosed reasons.
"He's not a gangster, he's not a gang-banger," Vincent said. "He's somebody who went to hell in a handbasket for a short period of time."
O'Brien's The Department of Corrections will evaluate Thomas for the boot camp program within the next 60 days. If accepted, he will go through boot camp in lieu of jail time and will then be released on parole.
Thomas previously faced related charges including armed robbery, assault with intent to rob while armed, assault with intent to murder and assault with a dangerous weapon. But those charges were dismissed upon sentencing as part of his plea deal.