Posted on
Mon, Nov 12, 2012 : 6 p.m.
The Color Run will return to Ypsilanti in May
By John Counts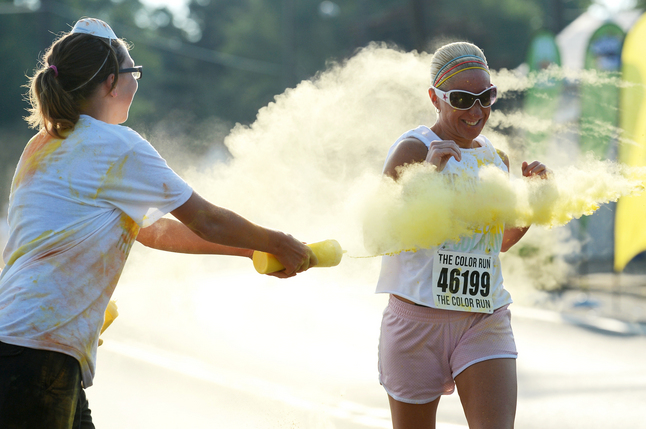 Melanie Maxwell | AnnArbor.com
The Color Run is returning to Ypsilanti for a second straight year.
The 5K run that takes participants through stations where they are showered with bursts of pink, blue, yellow and green corn starch is scheduled for May 11, 2013. Once again, plans call for Riverside Park to be transformed into "race village." The starting line will be right across the river on Cross Street in Depot Town.
The popular event is expected to attract 15,500 runners and 10,000 additional observers, said Debbie Locke-Daniel, executive director of the Ypsilanti Area Convention and Visitors Bureau.
"We're excited about it," she said. "It's a really huge positive event in my mind. It's a hot thing to do. We're excited about it this second year."
Locke-Daniel estimates the event will fill 1,500 to 2,000 area hotel rooms as people from across the state -- and even out of state -- flock to the event. Restaurants also will likely benefit.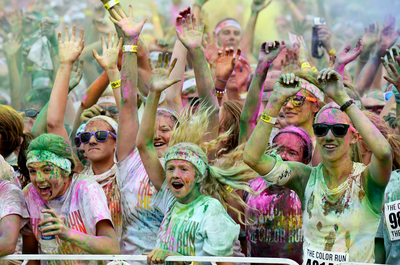 "It's a behemoth of an event for our small town," Locke-Daniel said, adding the run takes place in much bigger cities across the nation. Last year, everything went pretty smoothly despite the large crowds -- about 20,000 -- that converged on Ypsilanti, Locke-Daniel said.
"We really didn't get a lot of complaints," she said.
The 2012 run was held on a Sunday — the same weekend as the Ann Arbor Art Fair. This year, it will be in May and will not have to compete with that big event. The Color Run Eastern Michigan pricing and deadlines will be announced Thursday, Nov. 15, according to the event's website.
Charities also can get in the mix. Members from the Ypsilanti Jaycees, SOS Community Services, Meals on Wheels and the Downtown Association of Ypsilanti -- among other organizations -- volunteered and received donations from Color Run, which charges an entry fee.
The run begins on East Cross Street, then goes north on North River Street, west on East Forest Avenue, northwest on North Huron River Drive, south on Lowell Street, west on West Forest Avenue, down to West Cross Street, south on North Hamilton Street, east on West Michigan Avenue, north on North Huron Street and then up to West Cross Street and over to its end at Riverside Park where bands will be playing. (Check out a map of the course on the Color Run website.)
Along the way, runners will encounter stations where volunteers will unleash the canisters of colors. Participants will also get a color packet and are encouraged to save it until the very end for the grand finale. Runners will wear white T-shirts for maximum color impact.
The race starts at 8 a.m. Runners will not all start at once, but will begin in waves.
Below, see a video of the 2012 Ypsilanti Color Run.
John Counts covers cops and courts for AnnArbor.com. He can be reached at johncounts@annarbor.com or you can follow him on Twitter.