Posted on
Sat, Dec 22, 2012 : 5:59 a.m.
Gift and novelty shop markets itself to patrons as 'stocking stuffer capital'
By Katrease Stafford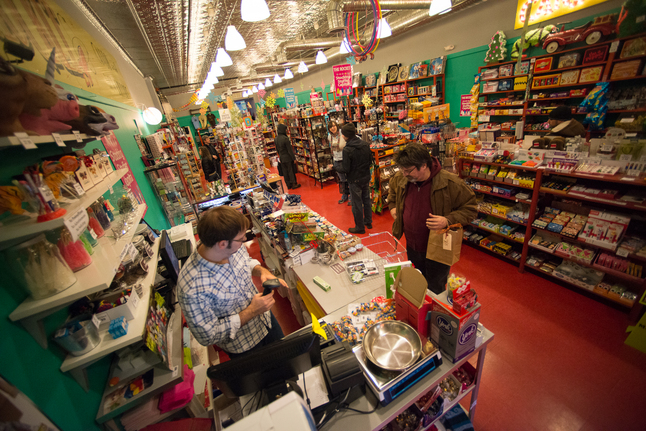 Courtney Sacco | AnnArbor.com
The Rocket, a gift and novelty shop in Ypsilanti, is preparing for last minute shoppers looking for unique presents.
Co-owner Eli Morrissey said the store sees more customers around the holiday season.
"This is the time of year we do most of our business," Morrissey said. "We broaden our hours and open earlier and close later. This is when it gets crazy in here. During the holidays, we might get between 200 and 300 people that pass through a day and that's underestimating."
Two years ago, the Rocket moved into a larger location. The store originally was located in a 700-square-foot space at 103 W. Michigan Ave., which now houses Model Cave.
The Rocket is now located at 122 W. Michigan Ave. in a 2,000-square-foot space right across the street from the old location.
Courtney Sacco | AnnArbor.com
People would come in the (old) store and kind of get stuffed in the store," Morrissey said. "You would see people walk out and now we have this space where people can kind of walk around. That's what really helped."
The move has allowed the store to be able to offer more products and accommodate more space for potential shoppers.
"We've added more stuff, more candy, more toys and t-shirts," he said. "We're broadening our gift line."
Throughout the year, customers range from parents who bring in their infant children to college students and the elderly looking for items that they remember from long ago.
"It brings people back to when they were maybe a child, but it does also draw a lot of college and high school students," Morrissey said.
Morrissey refers to his business as the "stocking stuffer capital" because the store has a lot of smaller gifts that people usually look for, as well as nostalgic candy.
"People buy a lot of smaller stuff for stockings," he said. "We really are a gift store and have so many toys and collectible items."
The store usually is decked out in funky Christmas decorations, Morrissey said.
"When we first opened, we did a lot of crazy Christmas decorations like hot pink stencil trees," he said. "Everyone brings in their own holiday music because we have to get our shoppers into the Christmas mood."
Katrease Stafford covers Ypsilanti for AnnArbor.com.Reach her at katreasestafford@annarbor.com or 734-623-2548 and follow her on twitter.