Posted on
Sat, Mar 31, 2012 : 5:56 a.m.
Tree nursery planned for Water Street while city discusses housing for site, too
By Tom Perkins
Among the latest discussions for Water Street uses and development are senior housing, affordable housing and a temporary urban nursery in the former Gilbert Park.
City Planner Teresa Gillotti said a company has contacted the city and expressed interest in building senior and affordable housing, but no formal paperwork has been submitted.
Whether or not a proposed affordable housing development would contribute to the city's tax rolls would have to be determined.
Gillotti and City Council discussed the ideas at Council's March 20 meeting, and no action was taken.
Ypsilanti Mayor Paul Schreiber pointed out that the Hamilton Crossing redevelopment will soon provide 144-units of affordable housing in the city while contributing to the city's tax rolls. Although no council members outright opposed the idea, none were in support either.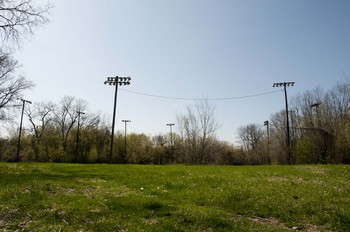 The city has begun clearing the former Gilbert Park on the Water Street property to install a tree nursery.
Council has previously expressed a desire for dense, mixed-use development on Water Street and in the past and has been cool towards similar ideas. The only formal proposals for Water Street have been a Burger King that council rejected nearly two years ago and it is still considering a recreation center that wouldn't contribute to tax rolls.
Gillotti said she received a call from a company interested in Water Street and couldn't comment on whether affordable or senior housing would be good for the city until there is a proposal.
"It's not yet clear what they want," she said. "If we get a letter of intent, than there will be a lot more to talk about."
But the city is moving forward with an urban forestry plan that will establish a nursery to supply the city with its trees.
Gillotti said she the idea came out of discussions about possible temporary uses for Water Street with former Assistant City Manager April McGrath.
The city doesn't have a budget for supplying new trees, Gillotti said, and the nursery will be funded by grants. It will hold around 1,000 trees on Water Street's southeast corner at the former site of Gilbert Park.
The ground there is mostly fill soil and Gillotti said it could be one of the last parcels to develop, but the nursery will be largely portable in case it needs to be moved to another location.
"It's an interim use that the public benefits from because it increases the number of trees in the city over time," she said.
Most of the public trees in the city are different varieties of maples.