Posted on
Mon, Sep 24, 2012 : 6:10 p.m.
Car crash victim remembered as the kid who got along with everybody
By Cindy Heflin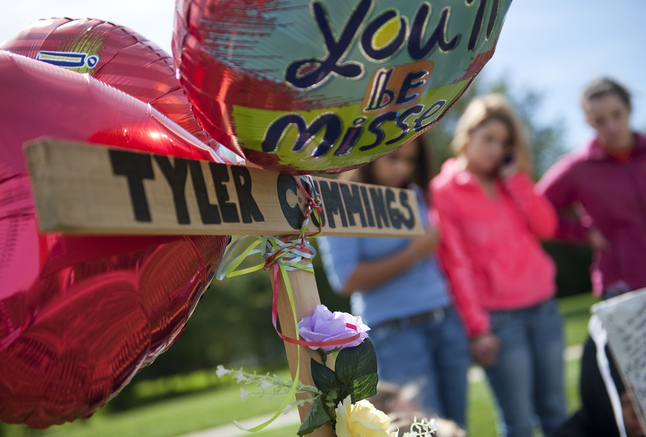 Daniel Brenner I AnnArbor.com
Tyler Cummings was the guy who made everybody laugh.
"I don't know of anyone that can say Tyler's name and not think of him and smile," said Carrie Wollam, an English teacher at Lincoln High School, from which Cummings graduated last June.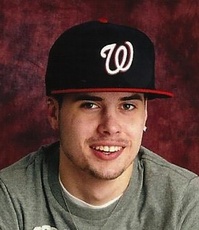 Cummings, 18, died Saturday when the car he was driving
collided with a Ford Explorer
near the intersection of Whittaker and Merritt roads in Ypsilanti Township. Police said his southbound car crossed the center line on Whittaker Road and crashed into a northbound Ford Explorer.
About 40 or 50 people gathered Sunday night at a makeshift roadside memorial set up in Cummings' honor. They lit candles and put their names on a sign honoring Cummings.
Angelia Cummings said she felt her son's presence in the group, especially during a lighter moment when a phone went off. "For whatever reason his father's cellphone started playing some crazy rap song and and would not shut off. ... We think it was a sign from Tyler."
The fact that so many would come together on short notice to pay tribute to Cummings came as no surprise to Wollam.
"He was just that kid who got along with everybody," she said. "He was very charismatic. I just feel a great loss for the school and for his family."
Tyler was the class clown, Angelia Cummings said. "He was always joking. ... He always had a smile on his face," she said.
He had a disarming way of making her laugh even when she was mad at him. "There was nobody like Tyler. He will never realize how many people's lives he affected and touched."
Besides humor, Tyler loved music, video games and sneakers, his mother said. "He was a tennis shoe fanatic. He would stand in line at the mall waiting in line for some hot new shoes coming out." Angelia Cummings said her son was on his way to a friend's house to play a new video game when the crash occurred Saturday.
Fred Hall, who is Angelia Cummings' former boyfriend and still a close friend of the family, said Tyler, who also loved baseball hats, had a large network of friends. "Girls and guys; blacks and whites; it didn't matter. People loved Tyler Cummings," he said.
Besides his mother, Tyler Cummings is survived by his father, Thomas Cummings of Ypsilanti; sister, Briana Cummings of Whittaker; half sister, Sarah Lee of Ypsilanti Township; half brother, Hunter Cummings of Whittaker; paternal grandparents, Phil and Alice Cummings of West Branch; maternal grandmother, Brenda (Robert) Martin of Milan; and maternal grandfather, Gary (Carolyn) Stover of Ann Arbor.
A funeral service will be held at 1:30 p.m. Friday at Stark Funeral Service, 101 S. Washington St., Ypsilanti, with Pastor Larry Davis of Christian Tabernacle Baptist Church, Ypsilanti officiating. Cremation will follow. The family will receive friends at the funeral home from 6 to 9 p.m. Wednesday and 6 to 9 p.m. Thursday.
In lieu of flowers, contributions in Tyler's memory may be made to The Tyler Cummings Fund, c/o Citizens Bank, 7150 S. Huron River Drive, Ypsilanti.
A Facebook page in Tyler's memory was set up Saturday.
Lincoln High School held a moment of silence for Tyler Monday, his mother said, and his friends plan to hold another candlelight vigil for him Monday night. Angelia Cummings said she plans to go. She doesn't know if a random cellphone ring will interrupt this gathering. "It would be pretty funny if it did," she said. "We would know that it was him."
Cindy Heflin is associate news director at AnnArbor.com. Contact her at 734-623-2572 or cindyheflin@annarbor.com or follow her on Twitter.