Posted on
Wed, Nov 28, 2012 : 5:57 a.m.
Ypsilanti train depot: One target of proposed DDA policy to revitalize vacant properties
By Katrease Stafford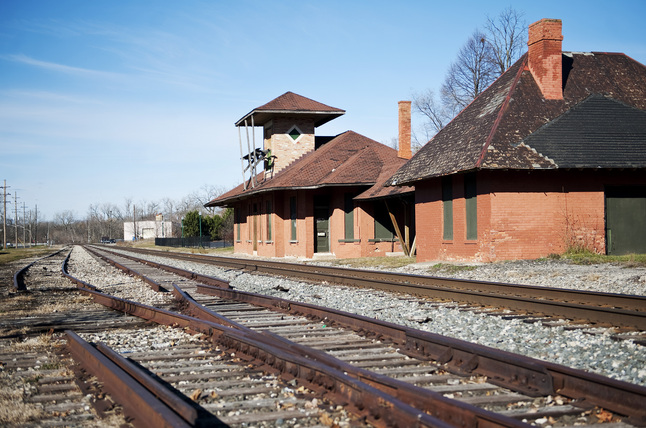 Daniel Brenner | AnnArbor.com
A vacant train depot in Ypsilanti near Depot Town is a target of the Downtown Development Authority, which is considering creating a policy to address bank-owned and habitually vacant properties.
The DDA discussed how to return these types of buildings back to use at its Oct. 24 Economic Restructuring and Design Committee's meeting and plan to further that discussion Wednesday.
DDA Executive Director Tim Colbeck created a list of five building owners who own several properties downtown, on Michigan Avenue and in Depot Town.
One of them, the train depot, has been vacant for many years, said Council Member Pete Murdock.
"When I moved on River Street 40 years ago, it was vacant," Murdock said. "…It was really grandiose at one time."
The train depot is owned by Dennis Dahlmann, owner of Dahlmann Properties and several buildings in the Ann Arbor area, including the Campus Inn hotel.
Dahlmann purchased the train depot in November 1999 from James and Carol Kovalak for $179,000. Prior to the Kovalaks owning the property, the National Railroad Passenger Corp., Amtrak, was the owner.
Ypsilanti Mayor Paul Schreiber said he spoke to Dahlmann a few months ago about the property, but no conversations have taken place since.
Dahlmann could not be reached for comment for this story.
"He has told me that he would be willing to work with someone in a partnership or sell the building at a market price," Schreiber said. "I don't know if anyone from the city has talked to him recently."
The 2012 assessed value of the building is $83,700, making its market value nearly double that, according to city records.
Colbeck said right now, the parking lot of the train depot is being used as a parking lot, although the city is not sure if that is something Dahlmann agreed to. The building itself isn't in total disrepair, but is boarded up.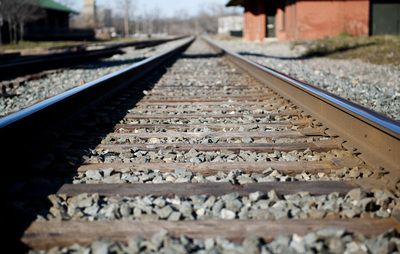 Daniel Brenner | AnnArbor.com
City Planner Teresa Gillotti said the building is secure and a recent tour of it showed there are no issues with the building.
At one point, the depot was being looked at as a possible spot for the Ann Arbor-Detroit commuter rail line to come through, but officials decided it was too close to the tracks to install a platform.
Instead, the west side of the freighthouse will likely be used as the train stop. Six newly refurbished, bi-level commuter rail cars made their first test run earlier this month through Depot Town.
"(They) are planning on having a platform build adjacent to freighthouse," Gillotti said. "The depot is most likely too close to the tracks for Amtrak standings."
City officials agree that the commuter rail line stopping through Ypsilanti would have major effects on the city.
"That's my No. 1 priority," said City Manager Ralph Lange. "… Urban transportation is a huge asset for economic development for a community like Ypsilanti."
City officials are hopeful that a commuter rail through Ypsilanti could spur development of the train station, even though the platform wouldn't be connected to it.
"I think it would take someone with an idea that would fit in with Depot Town and the train stop there," Schreiber said. "Someone had talked about a restaurant at some point or a train museum but those sort of things cost money."
The policy to help business owners of properties like the train depot has yet to be developed or approved, Colbeck noted, but the DDA is interested in figuring a way to help encourage owners to redevelop their properties.
"What we're saying is we have properties that have been sitting vacant for an extended period of time," Colbeck said. "Some are banks and some are individual owners. We would be excited to see some positive use."
Certain properties such as the former Savoy, previously called Club Divine, and the neighboring former Pub 13 piano bar, have received offers, but were turned down by the bank, Michigan Commerce Bank, that owns them, Colbeck said.
Colbeck said the policy, in this sort of instance, would find a way to incentivize banks and owners to move forward with offers. However, Colbeck said the policy wouldn't necessarily obligate the DDA to any sort of financial commitment with the owners.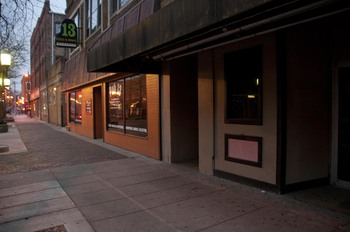 Tom Perkins | For AnnArbor.com
"We want to try to come up with something long-term, whatever we can do to spur economic development," he said. "We just don't want those properties sitting. We're really at the beginning of this, more than anything."
Colbeck said the vacant buildings certainly don't help increase foot traffic in the area, which is vital, nor do they generate an optimal amount of property taxes.
Colbeck said at this point, none of the owners are delinquent in taxes, but possible renovations and revitalizations could help boost the values of the properties, and in turn, the amount of taxes paid.
For the last three years, the DDA has seen a decrease in property tax revenue.
In 2007-08, the DDA received $316,559 in Tax Increment Financing. TIF allows all taxable value within the DDA boundaries to generate tax revenue for the DDA instead of the city of Ypsilanti. That number has declined over the years and in 2013-14, the DDA expects it to further decline to $239,138.
Colbeck previously told AnnArbor.com that the revenue drop is directly tied to property taxes and value.
"They're really not generating the optimal amount of property taxes," Colbeck said. "Because in some cases they're in disrepair. We're not losing money per se, but it's just not the highest and best use. If they were to be put into use that would mean more money. ... You may only see a real moderate increase or you may see a big jump."
The rehabilitation of these properties would not only boost the look and tax base of the city, but also the morale, Colbeck said.
"If all of a sudden there was a business operating daily out of each and contributing to the daily life, it will be huge," Colbeck said. "Each one little success we do grows our (overall) success."
Katrease Stafford covers Ypsilanti for AnnArbor.com.Reach her at katreasestafford@annarbor.com or 734-623-2548 and follow her on twitter.