Posted on
Mon, Nov 26, 2012 : 5:59 a.m.
Bank turns down offers for former Pub 13 and Club Divine in downtown Ypsilanti
By Tom Perkins
The lights will remain off in a stretch of the once lively Ypsilanti entertainment district, despite several offers to purchase two vacant nightclubs.
Three offers were made for the former Savoy, previously called Club Divine, and the neighboring former Pub 13 piano bar. But the properties' owner, Michigan Commerce Bank, saw the offers as too low, according to the properties' broker.
The two properties were listed at $990,000 in December 2010 but the asking price has since dropped to $750,000. Colliers' Jim Chaconas, the broker for the both nightclubs, declined to say how much the recent offers were for. Chaconas said separate offers were made for restaurant use and office use.
Another group toured the properties last week, he said, and that group could make a serious offer, though he declined to say who it was.
The listed price does not include liquor licenses.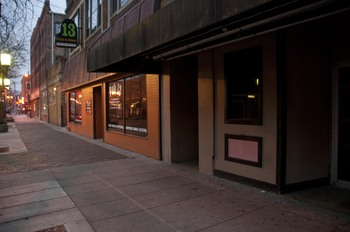 Tom Perkins | For AnnArbor.com
Chaconas said there is small leak in part of Club Divine's roof, but he called it minor and said the roof is structurally sound. City officials said they will inspect the building sometime in the next week.
Chaconas also said both buildings are structurally sound in general. Pub 13 operated at 17 N. Washington Street while Club Divine operated at 21 N. Washington Street.
"Structurally, they're great," Chaconas said. "The Pub 13 side is even better now that we cleaned it up."
Both bars were operated by David Curtis, who closed them abruptly in November 2010 amid what Curtis described as a dispute with DTE Energy over his utility billing. The businesses were $30,000 in arrears, according to DTE. Curtis said a malfunctioning meter caused the massive underbilling.
According to county records, Midwest Realty LLC — an entity involving Curtis — bought 17-21 N. Washington in September 2002 with a $1.1 million loan from the former Ann Arbor Commerce Bank, now operating as Michigan Commerce Bank. The city assessor then split off the 21 N. Washington property for tax purposes.
Combined, the buildings are 21,000 square feet. Chaconas previously said Club Divine had the highest wholesale liquor purchases in the county at one point.
"It's a cool place, and it was the nightclub in Washtenaw County for a long time," Chaconas said. "The last owner did extremely well, but Ypsilanti is now not the up-and-coming place."
Their closure has left a dark stretch on a main downtown block. At one time, the neighboring J Neil's Mongolian Grille, also owned by Curtis, closed as well, though that reopened as Bona Sera in July.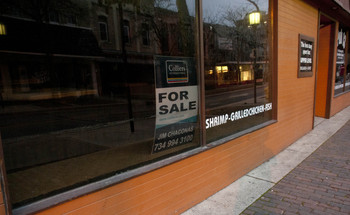 Tom Perkins | For AnnArbor.com
On the other side of the properties is the Deja Vu exotic dance club. Some people believe that has been an obstacle to finding buyers for the properties.
Chaconas said downtown Ypsilanti has been on a downward spiral since the clubs closed two years ago.
"It would help if someone got in there and got them going," Chaconas said. "Since those clubs closed, all the other bars and clubs are all going down the tubes."