Posted on
Wed, Jul 10, 2013 : 5:57 a.m.
Man accused of running girlfriend over with car sentenced to 14-21 years in prison
By Chelsea Hoedl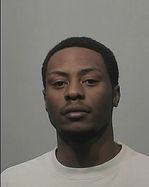 Courtesy of WCSO
The 21-year-old
Ypsilanti Township
man
accused of beating his girlfriend, running her over with a car and locking her in a trunk
was sentenced Tuesday in the Washtenaw County Trial Court to 14-21 years in prison.
Judge Donald E. Shelton sentenced Michael Glenn to 171-257 months on a count of assault with intent to murder, 32 months to four years in prison for felonious assault and 40 months to 5 years for stealing a vehicle. Sentencing for the three counts will run concurrently and credit for 180 days was given.
"Michael has caused me so much pain inside," the victim told Shelton prior to sentencing. "He had never abused me, but that day I thought he was going to murder me."
Onlookers sitting in gallery of the courtroom Tuesday struggled to hold back tears as the woman recounted for the court the events of November 27, 2012 in detail, saying that the incident started when Glenn began asking her if she was pregnant and if their relationship was over.
Despite the horrific events of the night, the woman asked the court to give Glenn 30 years on parole in her closing remarks because she said she still wants him to have a life.
Glenn apologized to the woman, the woman's family and his own family in front of the court.
"This has been a learning experience I will never forget," Glenn said.
According to police, the woman went to Glenn's Ypsilanti Township home that night with the intention of breaking up with him. Glenn got into her car and after they started arguing, he began punching her in the face repeatedly.
The woman was stabbed multiple times with an unknown object and was strangled until she blacked out before Glenn took her out of the car and ran her over with the vehicle, according to police. He then tried to put her in the trunk of the vehicle.
The woman was able to convince Glenn she wouldn't leave him, at which point she escaped from the trunk. She ran to a neighbor's house and called 911.
In June, Glenn pleaded guilty to three of the ten charges against him: count one, assault with intent to murder; count three, assault with a dangerous weapon; and count eight, unlawful driving away of a motor vehicle.
Chelsea Hoedl is an intern reporter for AnnArbor.com. She can be reached at choedl@mlive.com.