Posted on
Mon, Apr 16, 2012 : 11:23 a.m.
Willow Run, Ypsilanti school boards to vote on consolidation proposal Monday
By Danielle Arndt
This story has been updated.
WATCH: Tonight's meeting will be live streamed on AnnArbor.com via the Ypsilanti Township site YTownCan.com. Check back at 7 p.m. to tune in.
Board members with Willow Run and Ypsilanti public schools will meet tonight to vote on moving both districts toward a possible consolidation.
A majority vote of trustees from the boards of education would place the issue of merging school districts on an upcoming ballot for residents to decide.
"There is a lot of work that needs to be done in terms of designing what a unified district will look like," said Scott Menzel, superintendent of the Washtenaw Intermediate School District. "And without board authorization, that can't happen. The individual administrations don't have time to work on something they haven't been given the green light for by their boards. So Monday is an important step in the process."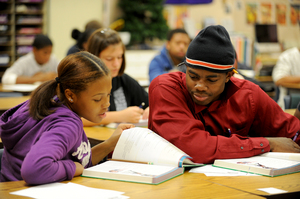 AnnArbor.com file photo
The meeting is scheduled for 7 p.m. at the
Ypsilanti Township Civic Center
, 7200 S. Huron Dr. Students from the districts' shared
Junior Reserve Officers' Training Corps
(JROTC) program will lead attendees in the "Pledge of Allegiance."
School officials expect an abundance of questions from board members and the public alike. There will be a designated time at the close of the meeting for public comment. Audience members will be limited to three minutes, according to the agenda.
Ypsilanti Superintendent Dedrick Martin said, at this stage, there are many "unknowns" surrounding the potential merger, so he would not be surprised to see a few board members speak and vote their mind.
"Obviously, I am hopeful (the proposal) moves forward because I think the alternative is worse," he said. "I certainly commend both boards for … taking this step.
"As with any courageous action, one thing is guaranteed: there are going to be some people who disagree. There is no winning side in this conversation. But the idea of consolidation has been floated for almost two decades. So I commend these boards for their leadership and courage to actually weigh it as a viable option."
Since the news of the possible merger broke, Menzel said the feedback has been "kind of a mixed bag." He has encountered a number of concerned individuals with questions, as well as people who think, "It's about time. I can't believe you didn't do it sooner," he said.
Martin echoed Menzel's observations from the public, adding the local business professionals he has spoken with are very encouraging of the proposal. But Ypsilanti's teachers and staff have responded more cautiously. He said generally they are optimistic, but many are worried about the details.
"Most of the staff is not pushing against it in a negative way. But they do want to know: what does (the consolidation) look like, what is the timeline?" he said.
Martin is concerned about key staff members dusting off their resumes and looking for other jobs because of the unknowns surrounding the merger, he said.
"That is absolutely a concern and, in some cases, is absolutely a reality," he said. "We are trying our best to hang on to good people. … (Losing staff) is a real fear and a real perception in times like this. ... This level of uncertainty and this type of change is very scary."
Menzel said some of the practical implications of moving to a unified district and the two high schools, which are both on the state's Persistently Low Achieving list, will be addressed, as will the "next steps."
Menzel, Martin, both school board presidents and Willow Run Superintendent Laura Lisiscki sat down with State Superintendent Mike Flanagan last week to discuss the possible merger.
Flanagan later sent a letter of support to the boards for their "visionary" and "trailblazing efforts."
"At a time when many other struggling districts have relented to let the state sort out their concerns, you have taken active steps to ensure that your communities maintain local control, while recognizing that business as usual is not an option," he wrote.
Flanagan said he would "favorably receive" an adopted resolution from the two boards requesting to "proceed with consolidation proceedings, per state law MCL 380.852."
"And, if voters in both school districts choose to consolidate, the Michigan Department of Education and I will commit to assisting the new district and its leaders in moving forward ... For example, I have the authority to extend the timeline related to deficit elimination plans and would be willing to consider doing so in support of your consolidation efforts," the letter said.
An extended deficit elimination timeline was what Menzel had hoped for, should the districts pursue a merger.
Previous coverage: Ypsilanti-Willow Run school consolidation plan would create new 'destination district,' ward off emergency managers
Staff reporter Danielle Arndt covers K-12 education for AnnArbor.com. Follow her on Twitter @DanielleArndt or email her at daniellearndt@annarbor.com.