Posted on
Mon, Jul 2, 2012 : 5:57 a.m.
Work Skills Corporation opening new charter alternative high school in Ypsilanti
By Katrease Stafford
Work Skills Corporation will be opening a new alternative charter high school, WSC Academy, in Ypsilanti this fall to service "underprivileged" youth on the south side of the city.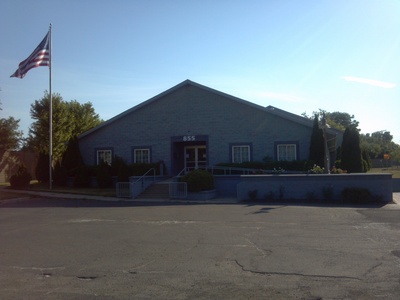 Courtesy Photo
Work Skills is a private nonprofit corporation that was established in 1973 to provide employment services to individuals with barriers to employment.
Tina Jackson, senior vice president of Work Skills, said the company began discussing the possibility of opening a charter school in Ypsilanti last year when news came that the charter school cap for authorizers would be lifted.
Things didn't officially get under way until Work Skills submitted an application to the state of Michigan in January for a planning grant.
Jackson said when Work Skills received word they would be given a grant for $110,000 they began the process of securing an authorizer.
Lake Superior State University became the academy's authorizer in April.
"Work Skills had already been running education programs for eight years so the opportunity to start a big school in Ypsilanti was a natural move," Jackson said. "We really want to have a presence in Ypsilanti."
The school will be located in the old Victory Academy charter school building located at 855 Jefferson St. Victory moved in 2009 to a new location at 1715 E. Forest Ave.
Victory Academy closed earlier this month after the school failed to secure a new authorizer. With the closure of Victory, there are now four charter schools in Ypsilanti including the new WSC Academy.
The building is nearly 14,000 square feet and has eight classrooms, four administrative offices and a full high school-size gymnasium.
Work Skills already has two other academy locations in Brighton and Hazel Park. In 2011, 54 of the students at those locations progressed to a level of graduation or GED preparation. Of that number, 14 graduates are planning to enroll in college or vocational training programs. The remaining students planned to enter the military or enter the work force.
WSC Academy Principal Portia Davis-Mann said the school already is in the process of accepting applications but she declined to say how many they have received thus far. Jackson said WSC began receiving applications in May.
Davis-Mann plans to have 150 students enrolled at the school.
"There's a greater need," Davis-Mann said. "We have a lot of students that have dropped out. The need is to get these kids graduated. That's what WSC is all about."
Deb Mozurkewich, Northfield Township supervisor and WSC Academy board member, said the school will serve a "major purpose."
"The goal is to get them to move onto even higher education after that," Mozurkewich said.
Davis-Mann said the academy is an opportunity for students who are in a variety of situations to recover credits to graduate and obtain a high school diploma. The academy also will be offering a GED prep program.
"We're working with students who are behind because of medical issues, students who had bullying issues and some who just don't do well in big schools," she said.
The academy does not have residency requirements, so students living in different cities can register.
"It's imagined the bulk of people would be from nearby, and the Ypsilanti school is slightly different population based than Brighton," Mozurkewich said. "The school in Ypsilanti will be serving more underprivileged children and children with special needs."
Students are required to have finished the eighth grade in order to enroll and must be between the ages of 14 and 19. Qualified students must be non-graduates under the age of 20 as of Sept. 1.
The staff will cater to students, Davis-Mann said, and the student ratio will be 1:10 per teacher to assure each student gets individualized attention.
"We don't plan to be in the office just doing paperwork," she said. "Every person will bring their own gift."
The school has seven staff members including two certified teachers and a guidance counselor. In addition to the paid staff, the school has 15 "business professional" volunteers that will assist in teaching. They will contribute two to four hours per week.
Davis-Mann said she has been the local community since 1968 and has acquired a number of contacts willing to help young adults.
"I approached a lot of different business people and organizations I know and asked if they would be involved," she said.
Davis-Mann is hoping to strike a relationship with the area colleges and universities such as Eastern Michigan University and Washtenaw Community College.
"We have so many colleges that are close to use and yet we don't have a lot of opportunity for our students to connect with that," she said. "Our hope is those (college) students come and invest. I'm hoping to have some collaborations there. I think these (WSC) kids are going to be the ones to come back and open doors in Ypsilanti."
Katrease Stafford covers the city of Ypsilanti for AnnArbor.com. Reach her at KatreaseStafford@annarbor.com. You can also follow her on Twitter.