Posted on
Wed, Oct 31, 2012 : 5:59 a.m.
Ypsilanti city manager: New 5-year budget will allow city to remain solvent through 2018
By Katrease Stafford
Courtesy City of Ypsilanti
Ypsilanti City Manager Ralph Lange presented a new five-year budget sustainability plan Tuesday night that he said will allow the city to remain solvent and maintain services and meet all scheduled debt service obligations through 2018.
"(The budget) focuses on the preservation of the general fund to the greatest and highest degree because that's the fund that determines if we can we pay our bills ... and stay in business," Lange said.
Lange said the previous budget approved in June allowed the general fund to avoid going into the red until 2016. Lange said his plan pushes that date to July 1, 2018.
"It's not forever, but it's much longer time to take more action to make the recovery complete," Lange said. "... The projection was that in 2016, the city's general fund would be completely out of money and we would be in the position to need a receiver. There's a lot of compromises that have been made in this budget and a lot of work still has to be done."
Those compromises weren't completely revealed because Lange said he plans to meet with city staff Wednesday to go over the specific numbers and changes more in depth. Lange said the full five-year plan will be publicly posted sometime Wednesday.
Council Member Brian Robb said some council members met with Lange Monday and last-minute changes were made to the budget. Robb said council did not receive the final draft until shortly before the Tuesday night City Council meeting and has not yet had enough time to review it in detail.
"It was interesting to see this budget for the first time Tuesday," Robb said. "As we have time to look over the budget, there will be a lot of questions we're looking for answers to."
John Kaczor, a representative from Municipal Analytics, said the goal of the budget was to buy the city some time.
"The goal is to change the trajectory of that line," Kaczor said. "The goal is to change the slope of that line. We're looking at the fund balance in the general fund instead of falling off steeply, it's falling off more gradually. By the end of 2018, the city will have about 3.1 milllion in the bank."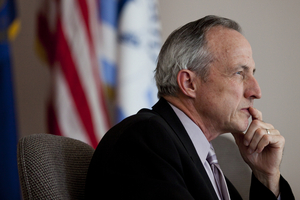 Lange outlined 10 principles to be included in the budget, which he hopes to have council approve in order to amend the current budget.
One of the main goals of the city, Lange said, is to make sure that each city employee is being utilized to the "highest and best" level of productivity to the benefit of the city.
Lange said since 2001, the city has reduced the number of employees from 146 to 81 in 2012. Lange said by January 2013, the city will lose a total of 15 full-time employees who account for high-dollar positions. So far the city has replaced three of the 15 positions, but they all won't be filled.
Lange previously said altogether, the base salary of all 15 employees account for more than $1 million. That number does not include benefits or pensions.
"In our analysis because we have shrunk so greatly, we had people because there's just no one else to do the job, at a very high dollar value doing relatively less valuable work and that is not the best use of our tax dollars," he said.
This budget, like the one approved in June, does not have any planned staff layoffs. All of the positions will be eliminated due to attrition, officials said.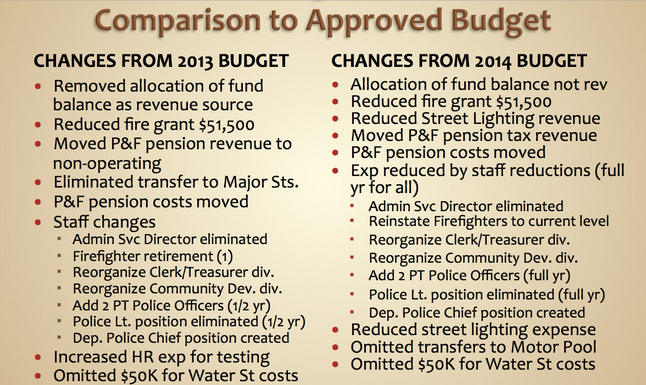 Courtesy City of Ypsilanti
Lange plans to hire new employees in at a lower benefit package. Lange said the city has a senior workforce and he predicts the city will turn over a large portion of its employees within the next five years.
"(We will) streamline the process and still give them a decent pay and benefits but probably elimante extraneous benefits that aren't necessary, but cause a liability on the books," Lange said.
Lange is also looking at cross training and merging departments, such as the clerk and treasurer'r offices as well as reorganizing the community development division.
"Employees are encouraged to become more valuable to the city through cross training and job duties to the greatest extent feasible," Lange said. "... City overhead costs are going to be reduced to match the current and projected size of the city workforce ... Internally, when you combine departments, you get efficiency and that's one of our goals."
Lange said that while doing an analysis of the budgets, staff realized that the general fund has "propped up" a lot of the other funds. Lange said he plans to stop the transfer of money between funds. The garbage fund is losing money at the rate of $330,000 per year.
"Every other fund activity will have to contribute money to essentially pay for themselves," Lange said. "We have to find a way to balance their books because no one else can do it. New funding sources will have to be identified."
Lange said the Water Street debt will continue to be a drain on the city. Ypsilanti must pay $30 million on its Water Street bond debt and continue to make payments through 2031. Its annual payments will grow to $1.7 million annually by 2015, and the city currently has $2.6 million set aside to pay down the debt.
The city assembled the 38-acre Water Street property about nine years ago with a plan to create a mixed-use residential project. Yet, it hasn't been able to find developers for the property.
"Water street, almost takes a life of its own where everyone is so negative that it will never happen ..," Lange said. "I feel very confident that with the right time and right effort that it will be redeveloped ... My first year and a half is to settle these (budget) issues and the last three and a half are to make sure that vision happens."
Lange said the city will look at possibly trying to reschedule the debt payments, but that cannot happen until May 2016.
"The problem is you have to get there to continue to be solvent," he said. We've got to make sure we get to that day."
Katrease Stafford covers Ypsilanti for AnnArbor.com.Reach her at katreasestafford@annarbor.com or 734-623-2548 and follow her on twitter.