Posted on
Sun, Sep 26, 2010 : 1:30 p.m.
Ypsilanti area offers plenty of fall fun
By Tom Perkins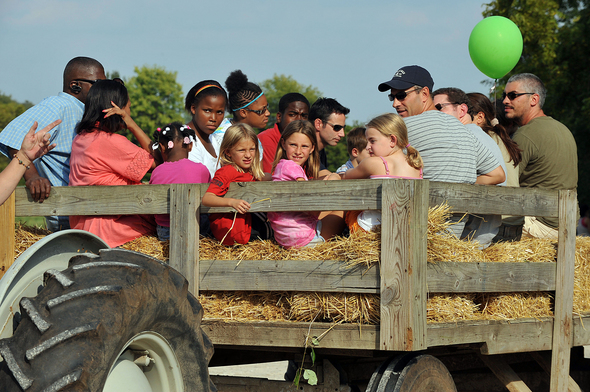 File photo | AnnArbor.com
If you're looking for fall fun, Ypsilanti has plenty to offer. Read on for the details on everything from costume parties to Oktoberfests to apple- and pumpkin-picking and more.
The embodiment for fall-related fun in the area is Wiard's Orchard in Ypsilanti Township. Among the many possibilities for enjoying an afternoon are a cider mill, pumpkin-picking, apple-picking, hay rides, pedal tractor racing, a petting farm, a corn maze and much more.
By night, Wiard's transforms into The Night Terrors Haunted Thrill Park. Choose from six scary activities, such as the Labyrinth Haunted Corn Maze, Hayride of The Lost or Scareyoke.
A more low-key venue for picking pumpkins and apples throughout the season is Wasem Fruit Farm on Judd Road. The farm is open daily 9 a.m. to 6 p.m. Once you fill up on cider and homemade doughnuts, head next door to the Talladay Farms Corn Maze, which also offers bonfires for larger groups in the evening.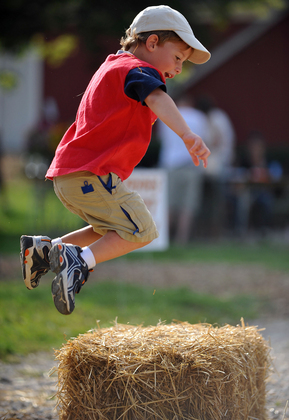 File photo | AnnArbor.com
Ypsilanti is well known across the region for its antique car shows, and one of the more unusual is the last show of the season on Oct. 3. The
Southeast Michigan Antique Truck Show
in
Riverside Park
is free and runs from 9:30 a.m. to 3:30 p.m. Organizers say it will feature roughly 40 trucks, including a 1924 Garford flatbed, antique fire trucks, a 1930 Model A Gas Tanker and much more.
"It'll be exciting -you're going to get a real cross-section of trucks," Jack Miller, owner of the Heritage Auto Museum said.
Stop by the Corner Brewery on Oct. 2 at 7 p.m. for the annual "Imagine. A John Lennon Birthday Concert Fundraiser." Local artists Chris Buhalis, Jo Serrapere, Danny Kline, Ypsitucky Colonels and many more will perform John Lennon songs, and the $10 admission will go to support the Veterans for Peace "Peace Scholarship Program". The scholarship assists students involved in an accredited peace studies program. The event is endorsed by Lennon's wife, Yoko Ono.
If you like beer, costumes and rock and roll, drop in to the Corner "Boo-ery" on Oct. 30 for their Halloween costume party. Admission includes food and music provided by Manhole UK.
For a more family-oriented Halloween party, check out the Ypsilanti Downtown Halloween Party on North Washington Street on Oct. 29 The event is free and runs from 5 to 7 p.m. There will be music, games, a costume contest and candy for kids under 12 years old.
After the party stop by the Dreamland Theater at 26 E. Washington St. will present the puppet adaptation of Stephen King's "Children of The Corn" on Oct. 29 and 30 at 7:30 p.m. and prior to the party the Ypsilanti District Library will hold "Scary Story Time" at 4:30 p.m.
The Downtown Ypsilanti Farmer's Market continues every Tuesday afternoon on Ferris between Adams and Hamilton Streets. Hours are 2 p.m. to 6 p.m. Growing Hope, the folks behind the Farmer's Market, will also hold their monthly community potluck dinner on Oct. 7 at 6:30 p.m. The potluck is a way to sit down at the table with your neighbors and discuss urban farming, access to healthy food and other issues at the heart of Growing Hope's mission.
Fall means football and Eastern Michigan University celebrates its homecoming game against Ohio University on October 2. While the noon game at EMU's Rynearson Stadium is the main attraction, plenty of festivities take place before the game for students, alumni and fans.
The EMU Alumni "Go Green" Tailgate runs from 10 a.m. until noon in the west end parking lot includes food, music, kids activities, the EMU Cheerleading Team and giveaways. Admission is free but any donations will benefit the EMU Alumni Scholarship Fund. Current EMU students can head to "Tailgate Town" from 9 a.m. to noon at the north end of the stadium for a tailgating party hosted by campus Greek organizations.
It has been six years since the Yankee Air Museum closed due to a tragic fire, but a dedicated core of volunteers has worked hard to piece together a bigger and better museum. Celebrate the grand reopening at their Inaugural Gala on Oct. 9 and "Yankee Salute to Aviation", which include helicopter rides, a battle re-enactment, all-female skydiving team and more on Oct. 10.
You can support Ypsilanti's largest art museum, the Riverside Arts Center, at their Oktoberfest Fundraiser on Oct.r 3 at the Corner Brewery. A $65 advance ticket includes food, Arbor Brewing Company brewed beer and country music provided by local recording artists Gas For Less.