Posted on
Wed, Feb 6, 2013 : 5:57 a.m.
Higher health care premiums and more benefit reductions approved for Ypsilanti employees
By Katrease Stafford
Ypsilanti employees will see additional benefit reductions for those hired after Jan. 1 in an effort to reduce the financial drain on the city.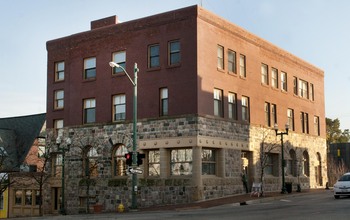 Tom Perkins | AnnArbor.com
The Ypsilanti City Council voted unanimously Tuesday to approve the changes that are expected to save the city money in coming years.
"We had been talking about this quite a bit," said City Manager Ralph Lange. "Could we do more? Yes, we can, but I think we're absolutely moving in the right direction. We tried to be as comprehensive and as reasonable as possible."
In January, council discussed adopting benefit package changes to all new non-union employees not covered by individual employment agreements.
Positions covered by individual employment agreements include the city manager, police chief, deputy police chief and fire chief.
The chart below highlights many of the changes that will go into effect immediately: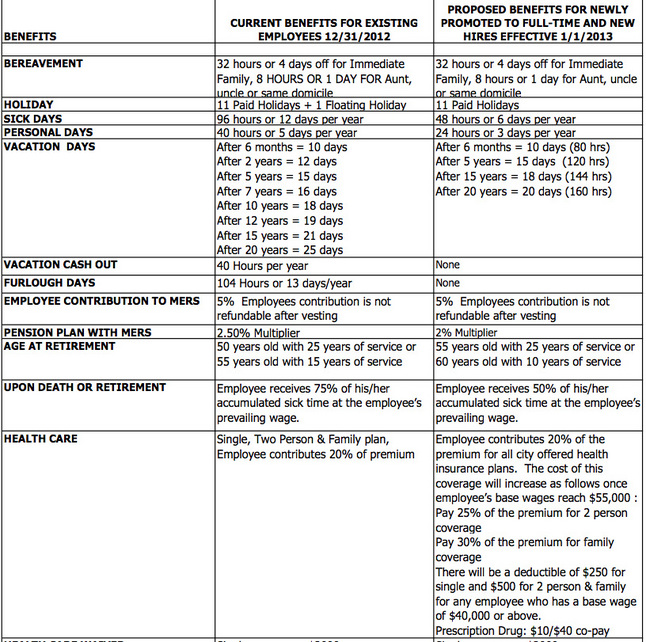 Courtesy Ypsilanti
Under the new plan, employees hired after Jan.1 will not receive vision insurance. The first proposed changes that council saw in January included no health benefits for employees with families, but health insurance has since been added for eligible family members.
However, new employees will have to pay 25 percent of the premium for two-person coverage and 30 percent of the premium for family coverage. Employees hired before to Jan. 1 pay a 20 percent premium.
Prior to July 1, 2010, the city paid retiree health care per the contract they retired under. For new employees, the city will contribute $150 per month.
Earlier this month, council unanimously approved pension changes for new, non-union employees, giving them a multiplier of 2 percent and allowing retirement at age 55 with 25 years of service. This amounts to a 20 percent reduction in the multiplier in comparison to the plan for employees hired prior to Jan. 1.
A multiplier is used to determine the size of the lifetime annuity an individual with a pension will receive. It's usually expressed as a percentage of final compensation times years of service.
Lange said at the time that legacy costs are a huge drain and the city is hopeful these changes set the foundation that would reduce those amounts.
Council Member Brian Robb found issue with some of the proposed changes, including how employees are given a lump sum of vacation time at the beginning of the year despite their time span on the job.
Robb said the way the benefits are worded, employees who have only worked for six months may receive the same amount as someone who was on the job for a year.
Robb was worried some of the outlined benefits might set a precedent for what unions or others may pursue.
"Here in the city we bereave aunts, and I've never seen that anywhere," Robb said. "...I don't want to fight over all of this stuff, but then it'll be in every union contract."
Katrease Stafford covers Ypsilanti for AnnArbor.com.Reach her at katreasestafford@annarbor.com or 734-623-2548 and follow her on twitter.