Posted on
Tue, Dec 27, 2011 : 5:57 a.m.
Ypsilanti Board of Education gives superintendent high praise in evaluation
By Danny Shaw
Ypsilanti Public Schools Superintendent Dedrick Martin "exceeded expectations" and impressed the Board of Education in 2011, earning high marks on his evaluation.
Martin, who has been superintendent since 2009, received a 4.56 rating out of a possible five points, an increase from last year's overall rating of 3.9. The scale ranges from 1 being "below expectations" and 5 "exceeds expectations."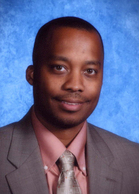 Of the five areas taken into consideration, Martin's highest score was in "Communication and Community Engagement," where he was rated a five.
"He really has a good grasp on what the needs of the district are," said David Bates, YPS Board president. "He knows the importance of community support and engaging in the community. He wants the district to be a community success."
The evaluation goes on to call Martin's active community outreach as "near herculean" and required "exceptional effort."
"Educational Quality and Achievement" is the second highest on Martin's review at a 4.8 rating. The evaluation states "great strides" have been made with graduation rates, exceedingly at the elementary school level, while maintaining a leadership role in the county.
In "Personnel Management and Auxiliary Programming," he scored a 4.6 and "Strategic Planning" came in at a 4.3. Martin's lowest score was a 4.1 in "Fiscal Management, Operations and Facilities," which is higher than his lowest category score last year of 4.0, and ranks just below "exceeds expectations."
"The Superintendent is to be commended for a substantial improvement in the condition of the district's facilities, under the new Director of Maintenance and Facilities, while simultaneously controlling expenses," states the evaluation.
Even though the year-end review focuses on the superintendent, Martin said it's more than just an evaluation of his performance.
"I worked with a lot of great staff members around me to respond better to the needs of the community, the students and the school board," Martin said. "I think that ultimately led to a better rating for me as an individual, but it's only reflective of the work of a team."
While the board shows confidence and approval of the superintendent, there were concerns about how to make the district more financially stable in the future.
"We're taking a more in-depth look at the budget because we cannot continue to limp along financially," Martin said. "We're bringing in more eyes, ears and minds to the table to find ways to deal with our financial challenges."