Posted on
Wed, Dec 8, 2010 : 7:30 p.m.
Ypsilanti City Council approves Washtenaw Avenue and Oakwood intersection construction
By Tom Perkins
Construction will likely begin in spring on an Eastern Michigan University-developed plan to make improvements to the Oakwood Street and Washtenaw Avenue intersection.
The project is intended to improve pedestrian safety and alleviate congestion there and throughout the Oakwood Street corridor. But not all residents in the area are convinced the changes are improvements or go far enough to address the issues.
The plan also failed to receive approval from the planning commission, but City Council supported it 7-0 at its meeting Tuesday night.
Some residents and planning commission members think the university should have planned to improve the entire Oakwood corridor while it was investing more than $200 million in capital improvement projects in recent years. Those projects have heavily increased traffic along Oakwood Street, which borders campus's west side.
Joe Golder, who lives at Washtenaw and Oakwood, called the project a "bunker buster on my dreams of being a homeowner" at the intersection.
"I think its appalling EMU, knowing they were going to do this over the last 10 years, didn't put in proper infrastructure," he said.
When construction is completed next year, westbound Washtenaw east of Oakwood will have an additional right turn lane, while southbound Oakwood approaching Washtenaw will have an additional left turn lane.
A pedestrian island will be added to Washtenaw Avenue just east of Oakwood and all four corners will be made compliant with the Americans With Disabilities Act. Additionally, the intersection's corners will be squared up, shortening the crosswalks by up to 16 feet. The crosswalk signals will be coordinated with the traffic lights so pedestrians don't need to push a button to activate them.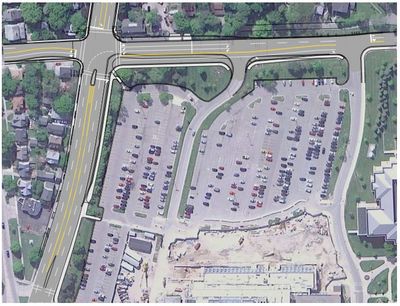 Signs and pavement stripes will be added to prevent traffic stopped on southbound Oakwood from blocking driveways. The university also has committed to adding a landscape screen to block some light pollution along Oakwood. Oakwood's lanes north of Washtenaw will be slimmed to 11 feet wide, and the western edge of the road will be shifted several feet east. EMU officials said that will also help provide an additional green buffer for residents there.
Leigh Greden, executive director of community and government relations for EMU, said officials are discussing with the Ann Arbor Transportation Authority the possibility of moving a bus stop on the north side of Washtenaw further to the east so buses don't block the new right hand turn bay.
He said the university is also exploring how to improve its parking lot system campus wide, and officials plan to improve flow into the entrance of a lot north of Washtenaw and east of Oakwood that sometimes has traffic backing out into the road.
The nearly $450,000 project will be entirely funded by a Congestion Mitigation and Air Quality grant if the Michigan Department of Transportation approves the plans before the end of the month. The council technically approved the application for the grant by approving the plan. If plans are not approved by MDOT until next year, then EMU will have to pick up 20 percent of the costs. The project will not cost the city any money.
Opponents of the project have also contended that EMU should first address issues at Huron River Drive and Oakwood, where there are a high number of accidents. They say addressing issues there could alleviate congestion at the south end of the corridor and minimize the need for changes at Washtenaw and Oakwood.
During a presentation on the project, Greden said a study of the Oakwood corridor showed congestion at Oakwood and Washtenaw is more of a concern, while improving safety at Oakwood and Huron River Drive is the primary objective there.
"We're here because there's a grant, and in this difficult fiscal environment we sort of chase the money," Greden said. "To be blunt, if it were a safety grant instead of a congestion grant, we would be here talking about Oakwood and Huron River Drive."
The city will need to obtain easements from two property owners on the southeast and southwest corners of the intersection to perform some of the work. One resident who has opposed parts of the project has the ability to veto the preferred pedestrian island by not allowing the easement, but officials say there is a second type of island that could work if that happens.
Council members generally expressed support for the project despite a few concerns. Council Member Mike Bodary said pedestrians nearly have to run across the crosswalk on Washtenaw because the light cycle is so short. He said he would like to see MDOT change the length of the cycle to allow more time for crossing.
Council member Lois Richardson agreed and said she viewed the pedestrian island as a danger because it left people out in the middle of Washtenaw Avenue.
City Planner Teresa Gillotti said although the plan failed to gain approval from the Planning Commission, everyone agreed the university had worked to make improvements to its plans. She also said EMU and the city had signed a memorandum of understanding under which university officials will notify the city of any major campus projects several years ahead of time.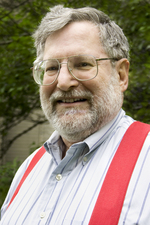 Frank Wright
has been one of the more vocal opponents throughout the project.
"(The plan) is incomplete and it does not go far enough to address the dangers of the entire corridor, it is merely a Band-Aid," he said Tuesday night. "The construction is not driven by EMU's concerns for its neighbors, as we have seen, because we have been in discussion for several years. It's driven by complaints from their staff and students."
Council Member Pete Murdock said some residents won't be happy until EMU is moved 1,000 feet to the northeast. He said the issue that needs to be addressed is getting students in and out of campus more efficiently.
"There's not much more that can be done with that intersection," he said. "We have other larger issues with getting traffic in and out of EMU ... when I look at those cars backed up there, they're all single occupancy vehicles, and we have to get out of that somehow, but I don't have the magic bullet."
Greden said EMU is working hard to address traffic issues in the area. "This project is the first part in a long-term strategy to improve Oakwood that will benefit residents, the city and the university," he said.