Posted on
Thu, Jan 13, 2011 : 2:08 p.m.
Ypsilanti City Council considering cap on medical marijuana facilities, outlines licensing process
By Tom Perkins
The Ypsilanti City Council is considering limiting how many medical marijuana dispensaries can operate in the city, among other revisions being considered in the proposed licensing ordinance.
The revised ordinances establishing a licensing process and fees are expected to go before council members at their Feb. 1 meeting. They opted not to vote on the first reading Tuesday night, after a wide variety of concerns and questions were raised by parties on all sides of the issue.
The process and fees ordinance comes several weeks after the council approved a zoning ordinance governing and defining home growers, dispensaries and larger scale medical marijuana growing facilities.
The new ordinances only involve dispensaries and grow facilities, not home growers. City Planner Teresa Gillotti said the procedure was modeled off other municipalities' procedures and the city's liquor licensing process.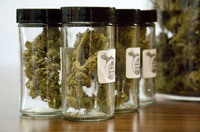 Under the new ordinance, those opening a dispensary or grow operation would need a city-issued license. That license would be renewed annually to provide city staff with an opportunity to ensure the applicant isn't in violation of any rules or city ordinances. An initial license would cost $2,500, then $1,100 for renewal.
Applicants would be required to detail how they will secure their operation and keep logs of a facility's patients, caregivers, quantity of marijuana and transactions. The facilities and logs would remain open to inspection from city and law enforcement officials, and an applicant would be subjected to a criminal background check.
One of the points council members disagreed on was imposing a cap on the number of dispensaries. The proposed ordinance limits the city to one dispensary for every 2,000 residents, and the language included a sunset clause that would expire the limit on Dec. 31, 2011.
"The idea behind the sunset clause is we will know a lot more about how the process went and be able to revisit it at that time," Gillotti said.
Most council members appeared in favor of the sunset clause. Council Member Brian Robb opposed putting a limit on the number dispensaries, while Mayor Pro Tem Lois Richardson and Council Member Mike Bodary said that number per capita was too high.
"I have a problem with 11 dispensaries in a city our size," Richardson said. "Do you really think we have that many legitimate customers for medical marijuana?"
Ann Arbor will consider limiting the number of dispensaries operating there on Jan. 18, which led some council members to question whether that would could increase demand for facilities in Ypsilanti. The Ann Arbor City Council recently agreed that, for the next year, licenses should be capped at a number that is 10 percent higher than the total number of dispensaries and cultivation facilities currently operating in the city.
Adam Tasselmyer plans to open a dispensary downtown on Michigan Avenue and answered some of the council's questions about his planned facilities. He said he checked seven locations downtown and found only one landlord willing to rent to him. Because many landlords don't want to rent to tenants opening a facility, and because the dispensaries must remain 500 feet apart per the zoning ordinance, Tasselmyer said he didn't expect to see a proliferation of dispensaries downtown or throughout the city.
Gillotti said she is revisiting the question and considering removing the language entirely because of the zoning ordinance's limits.
"There's nothing in the state act that says there's a limit and we don't have anything that's a guide, but we want to make sure there's a reason to what we do," she said.
Several council members also questioned a provision that prevented convicted felons from owning a facility. The Michigan Medical Marihuana Act states that those with a felony drug conviction can't carry a medical marijuana card. The proposed ordinance would take that a step further and prohibit any convicted felon from opening a facility.
Gillotti said she would consult the city attorneys on that issue again.
"We're going to have them issue a legal opinion to make sure we're clear on it," she said. "We're modeling this after the liquor license policy, and because it's a controlled substance, it requires a little more attention."
Robb, who has favored less restrictive regulation throughout the course of the city's medical marijuana discussion, objected to several of the ordinance's provisions.
He strongly opposed applicants being required to explain their security plan, which he called "crazy." However, when Robb asked Tasselmyer for his thoughts, Tasselmyer said he had no problem with the requirement.
"I understand that in this business, you have to jump through hoops and follow the law to a 'T,'" he said.
Robb also questioned why a license could be revoked if emergency workers responded to a facility three times in one month, which qualifies a business as a public nuisance under state law. He argued a dispensary is a medical — or quasi-medical — facility, and that a medical call shouldn't be counted against it. He also asked what happened if a person unaffiliated with a facility received a drunk and disorderly ticket outside the store.
"That seems excessive," he said.
Gillotti said she thought Robb's point regarding medical calls was good one and added that she would check with the police department on what happens if someone is arrested outside a business.
Responding to a question Robb asked about why there are stricter regulations on the medical marijuana license than a liquor license, City Attorney John Barr said medical marijuana is an illegal substance, while liquor isn't.
Barr said the medical marijuana card is essentially a "get out of jail free pass," because marijuana is illegal unless a person carries the card. Robb disagreed with that assessment and called it "condescending."
Several council members wanted to see greater accountability written into the licensing process. They want it to be clear that there is one person who is the applicant and responsible for the facility. Council members also wanted to ensure that person's identification is verified.
Gillotti said she planned to research how to best tighten up that aspect of the process and would present new language to council on Feb. 1.
Tom Perkins is a freelance writer for AnnArbor.com. Reach the news desk at news@annarbor.com or 734-623-2530.