Posted on
Wed, Nov 17, 2010 : 1:15 p.m.
Ypsilanti City Council approves new medical marijuana dispensing regulations
By Tom Perkins
The Ypsilanti City Council gave first reading approval Tuesday night to several measures that will regulate the growing and dispensing of medical marijuana in the city.
The amendments to the city's zoning ordinances establish rules governing and defining home growers, dispensaries and larger scale medical marijuana growing facilities. The amendments passed 6-1 with Mayor Pro Tem Lois Richardson voting no. Mayor Paul Schreiber was absent.
Under the new regulations, which still must be approved on second reading, dispensaries must remain 1,000 feet from schools and 500 feet from other dispensaries. They would be permitted to operate in central, local and general business districts, which would allow a maximum of roughly 30 dispensaries in Ypsilanti and five to eight downtown, officials said.
Dispensaries must keep a logbook of their patients, care givers and how much marijuana is on the premises. That book is subject to inspection by code officials and police officers. Additionally, all dispensaries must be properly registered and licensed with the city.
A grow facility would face similar regulations as dispensaries. Care givers in those facilities would also need a log with the number of plants open to law enforcement and code officials. Instead of business districts, grow facilities would be approved to operate in manufacturing and commercial industrial districts.
The city Planning Commission considered the issue over the last several months after City Council approved a 90-day moratorium on September 15. That moratorium barred any new dispensaries or growing facilities as the city developed ordinances.
Municipalities locally and statewide are facing similar decisions on how to deal with what many say is a vaguely written state law on medical marijuana's use and distribution.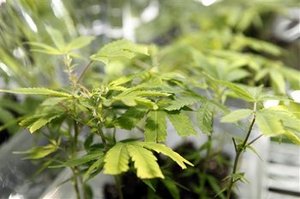 Jamie Lowell
, a partner at dispensary
3rd Coast Compassion Center
in Ypsilanti, said he didn't agree with all the changes, but appreciated the city's thorough process in developing the ordinances and that city officials consulted with 3rd Coast. The center is a year old and considered the oldest dispensary in Michigan.
"It's commendable and respectable that the city went through such a process in going about dealing with issue," he said. "There is no black and white direction or no pamphlet on how to do it."
Up to five caregivers can grow in one building with no limit to the building's size or the size of the plants. But those caregivers couldn't have more than the 72 plants each permitted by state law.
Grow operations and dispensaries cannot be in the same building and must remain 500 feet from each other. Ingestion of medical marijuana is not permitted in either setting.
Council member Brian Robb voted for the regulations on first reading but wanted to see some changes before the second. Among those is eliminating restrictions on the distance between dispensaries and grow facilities.
"If it were up to me, I'd make this ordinance much more lax," he said.
City planner Teresa Gillotti said the zoning amendments were created while viewing medical marijuana dispensaries and businesses not as a development tool, but as a way to provide access to medicine for patients. She said the Planning Commission sought to accommodate legal medical marijuana use and provide easy access for patients, but didn't want to see a "proliferation" of related businesses in the community.
"I think it's a perception issue," she said. "Sometimes people like the idea of having a concentration of businesses … but we don't want the perception that Ypsilanti is only medical marijuana and tattoo parlors."
Caregivers or patients who choose to grow the maximum 72 plants for up to five patients and themselves at home must obtain a business permit from the city. They can only use 25 percent, or 300 feet, of their home for growing.
Home-based businesses also must:
Obtain permits for any mechanical, electrical or plumbing upgrades to accommodate growing medical marijuana.
Have their homes or grow facilities open to inspection by code officials.
Keep transactions between caregivers and patients limited to appointments instead of on a "walk-in" or retail arrangement.
Provide clarification on where in a home or building a grow operation will be located.
Have only one person growing per parcel.
Among concerns raised during public comment was privacy issues related to the federal Health Insurance Privacy and Portability Act and how the city would keep permits and records of who is a patient or caregiver. About a dozen medical marijuana proponents were in the audience.
Gillotti said records of those who operate a home medical marijuana business would be separated from files of other businesses but not subject to Freedom of Information Act requests.
Council Member Mike Bodary questioned how caregivers would dispose of plants and asked whether people would be just throwing them in trash bags that would end up on the curb.
Gillotti explained many people boil down the plant. Any unusable remains are typically bagged similar to yard waste, she said.
The ordinance also provides limits on signs, lighting guidelines and other regulations that will keep grow operations and dispensaries discrete.
Richardson, who was the lone "no" vote, said she had a friend with cancer who is considering using medical marijuana. She said she understands the need for it but is concerned with crime issues.
Ypsilanti Police Chief Amy Walker said allowing medical marijuana use puts her officers in a "difficult" position because it's still illegal under federal law. But she said the department would "respect the wishes" of City Council and said she understands it's being used for a medical need.
"But I don't want us to lose sight of the image of the city because there's a lot of people into it not to be compassionate," she said. "Wherever there's a drug, there's criminal activity."
Robb questioned if there had been an increase in crime around 3rd Coast in the last year. Walker said there hadn't but said crime had been an issue in neighboring communities and statewide.
"I'm a very optimistic person, but I'm not that naive either, especially as a law enforcement officer," she said.
The Michigan Medical Marijuana Act passed statewide in 2008. Voters in all but one ward in Ypsilanti approved the issue by at least 80 percent.
Tom Perkins is a freelance reporter for AnnArbor.com. For more Ypsilanti stories, visit our Ypsilanti page. To reach the news desk, call 734-623-2530.