Posted on
Wed, Jan 9, 2013 : 11:21 a.m.
Ypsilanti City Council honors retired Fire Chief Jon Ichesco
By Katrease Stafford
Recently retired Ypsilanti Fire Chief Jon Ichesco was honored by city council Tuesday for his 28 years of service within the department.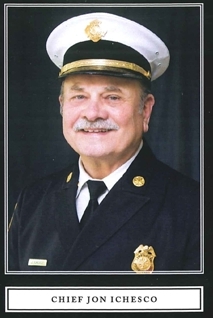 Courtesy Kate de Fuccio
Ichesco, 66, began working for the city in June 1984 as a firefighter and was promoted within the department. In 1994, he became the fire marshal and the fire chief Jan. 13, 2007.
In recent years, Ichesco served as both fire marshal and fire chief. Ichesco retired Dec. 31 and Captain Max Anthouard was named interim chief Dec. 20.
Council presented Ichesco with a certificate and resolution commending him for his "unparalleled service" to the citizens of Ypsilanti.
"It's been a pleasure and an honor to serve and I won't be going too far away," Ichesco said. "It was fun serving people and that was my reward."
A roast will be held for Ichesco from 2 to 5 p.m., Jan. 20 at the Michigan Firehouse Museum located at 110 W. Cross St.
Katrease Stafford covers Ypsilanti for AnnArbor.com.Reach her at katreasestafford@annarbor.com or 734-623-2548 and follow her on twitter.