Posted on
Wed, Aug 14, 2013 : 5:58 a.m.
Ypsilanti City Council member walks out of meeting after Thompson Block discussion breaks down
By Tom Perkins
How will Ypsilanti respond to developer Stewart Beal's request to extend the deadline for completing the Thompson Block by another year?
That question was supposed to be resolved in a closed session meeting with City Council, staff and city attorneys on Tuesday morning.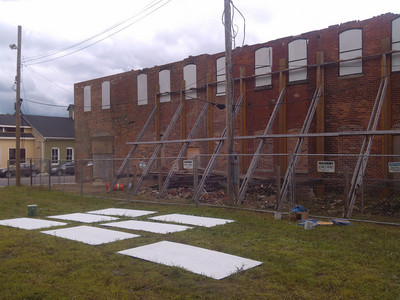 Photo courtesy of Stewart Beal
Instead, not enough council members showed up to allow the meeting to go into closed session, and Council Member
Pete Murdock
walked out in frustration after the discussion about the Thompson Block "went in circles, like it always does."
"There's nothing the city can do," Murdock said. "We just don't do anything and (Beal) does whatever the hell he wants and that's what he does. When it becomes totally financially unviable, then he'll bail out."
Council Member Susan Moeller, Council Member Brian Robb and Mayor Pro Tem Lois Richardson did not attend. Five council members are needed to bring the meeting into closed session.
Per a consent agreement signed by Beal and the city after months of legal wrangling in 2010, the Thompson Block is to have its outer envelope, including all outer walls and the roof, completed by Sept. 1.
But that deadline is approaching and Beal is requesting an extension that would allow him until the end of 2014 or early 2015 to complete the building — more than five years after a fire gutted it in September of 2009.
The city now must consider whether to agree to the extension or take the matter back to court. All four walls are complete — as are eight other points that were part of the consent agreement — but the lack of a roof means the building still violates the city's dangerous buildings ordinance.
The city could take the issue up in the court system, or it could agree to the new deadline.
Murdock said part of the reason he left the meeting was because no viable options were being discussed. He questioned whether the project can even be completed.
"In the abstract you would like to see the building refurbished, and blah, blah, blah," Murdock said. "In reality, I don't think it's economically viable."
Beal recently announced that he was seeking investors to purchase shares in the building. He has $2 million in loans and needs to raise another $2 million through private investment or loans to make the project happen. He also has $2 million in tax credits he said he will sell to pay off loans or investors.
Mayor Paul Schreiber struck a more patient tone. He said he understands the frustration but noted the building is better positioned than when jailed landlord David Kircher owned it, and he is hopeful Beal can pull together the necessary funding.
He said such a redevelopment is tricky but he believes the Thompson Block would certainly pay off once a train stop comes to Depot Town. Blocking the redevelopment through more legal action isn't the best option, Schreiber said.
"The city should be trying to encourage development and helping Mr. Beal, but also not letting it go on forever," Schreiber said. "It's not unusual for developments to lag, so I hope the city can negotiate some type of agreement that lets him go forward, get some investors and helps him develop the property."
Schreiber said he was part of the redevelopment of the Hamilton Crossing housing project, which dragged on for a decade before reaching its conclusion.
"I think frustration is a part of any development," he said. "In the Parkview redevelopment that turned into Hamilton Crossing, there were a lot of dark days.
"Developers have lots of patience and look for ways to get things done. As long as we're making progress, I think that's good."
Council Member Ricky Jefferson declined to discuss the issues.
"I have to look at everything and we still have some things the attorney has to bring to us," he said.
Murdock said he isn't the only one feeling frustration over the slow progress.
"People are sick of looking at the building, tired of hearing about it and with all the public relations Beal does he has virtually zero credibility with anyone for getting this project done," Murdock said.
Responding to suggestions from the public that the city tear the building down and install a park, Schreiber said he felt a park would add little to Depot Town.
"A park is not going to add to the property value, and it's not going to add to Depot Town's commerce. That would keep anything from developing there for the next 20 years. We've got a start on development and I think we should finish the development," he said.
Tom Perkins is a freelance reporter. Contact the AnnArbor.com news desk at news@annarbor.com.