Posted on
Tue, Sep 21, 2010 : 11:25 p.m.
Ypsilanti Planning Commission to hold hearing on medical marijuana zoning ordinance
By Tom Perkins
A moratorium on new medical marijuana dispensaries went into effect in Ypsilanti last week as city officials work to develop ordinances to regulate them.
City Planner Teresa Gillotti said an ad hoc team of representatives from the police department, building department, city planner's office, fire department, city manager's office and city attorney met to make a recommendation to the planning commission.
Several planning commission members and city staff also visited a local grow operation, Stealth Hydro, and met with representatives from the 3rd Coast Compassion Center at 19 North Hamilton.
The city is examining how best to regulate home businesses where qualified caregivers can grow up to 72 plants for themselves and five qualified patients, which is the maximum allowed under state law.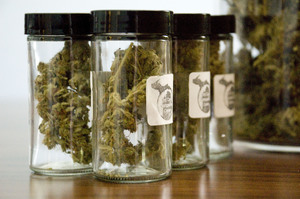 In July, the City Council approved a three-month emergency moratorium on new business licenses for dispensaries to give city staff time to develop regulations addressing processing, growing and distributing medical marijuana. That moratorium went into affect on Sept. 15, and all current operations were grandfathered in.
Ann Arbor recently approved a similar moratorium.
Ypsilanti city officials are also determining how to regulate dispensaries and large scale grow operations, on which state law is silent.
Gillotti said the ad hoc group sought to recommend regulations that provide for easy access to medical marijuana for qualified patients, as intended by the Michigan Medical Marihuana Act of 2008. But she underscored zoning ordinances and regulations must be written in a way that's clear for all parties involved in the issue, including city staff and law enforcement.
"We have to provide as much clarity as possible for everyone involved so that there is no confusion, so that we aren't getting into some kind of tension between law enforcement and the caregiver about what is legal, what isn't legal, when, where and how - we want the rules set up clear," she said.
Some of the main questions planning commissioners have had concern how medical marijuana is grown and how intensive it is in terms of space, energy use and ventilation.
Currently, home businesses can't occupy more than 300 feet or 25-percent of a home, but that might not be reasonable for a grow operation. Gillotti said the commission was still discussing the issue because there are so many different styles of growing with varying needs.
Among the city's concerns for the smaller-scale home business operations are making sure they don't blur the line between a home and commercial operation in a residential zone, Gillotti said.
The planning commission likely won't allow patients to pick up medical marijuana at caregivers' homes, and Gillotti pointed out home businesses are allowed to have minimal customers who come to their residences.
"We want to respect the intent of that district," she said.
Gillotti added many of the caregivers that city officials have spoken with said their preferred method of providing medication was delivering to the patients.
Council Member Brian Robb expressed concerns over restricting patients from picking up their medicine from caregivers' homes.
"I'm not thrilled that you don't want five people to come over to my house to get medicine," he said.
Gillotti said the planning commission is considering recommending home businesses and dispensaries remain 1,000 feet from schools and dispensaries remain 500 feet from one another, though home businesses wouldn't be required to remain 500 feet apart.
Robb questioned that approach as well and said it felt like dispensaries were being treated like adult establishments, such as strip clubs or adult bookstores.
Gillotti said dispensaries wouldn't be zoned as such, but the consideration was there to prevent a proliferation of dispensaries and compassion clubs in one area.
The issue of how to regulate dispensaries has been at the center of a larger debate regionally and statewide. Ypsilanti is home to the state's first dispensary in the 3rd Coast Compassion Center, but many argue the law isn't clear on what is and what isn't allowed.
Those in the medical marijuana industry believe recent raids on dispensaries in Ferndale will lead to court cases that could clarify confusing state law.
The planning commission will hold a second public hearing on the issue at its Oct. 20 meeting, and Gillotti said she expects a recommendation to council in November.
Tom Perkins is a freelance writer for AnnArbor.com. Reach the news desk at news@annarbor.com or 734-623-2530.