Posted on
Tue, Apr 2, 2013 : 7:05 p.m.
Ypsilanti, Lima townships commit to local road improvement projects
By Amy Biolchini
A number of local roads in Ypsilanti and Lima townships will see construction this year after the Washtenaw County Road Commission approved work agreements Tuesday.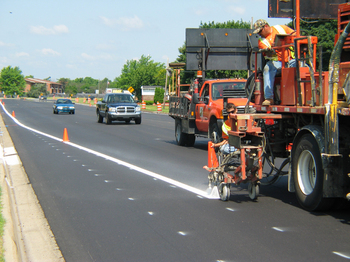 AnnArbor.com file photo
Ypsilanti Township will be paying $261,000 for the milling and paving of the following roads in the Nancy Park Subdivision:
Mollie Street between South Grove and Dorothy streets
Dorothy Street between South Grove and Harry streets
Lynn Avenue between McCarthy and Harry streets
Heatherridge Street, between McCarthy Street and Andrea Avenue
The project, which totals nearly one mile of local roadwork, also includes the installation of sidewalk ramps that are compliant with Americans with Disabilities Act requirements.
Other upcoming Ypsilanti Township road improvement projects this year include the $660,000 in repairs to roads and in the replacement of water lines in a neighborhood off South Grove Road, as well as the replacement of the Ford Boulevard Bridge.
In Lima Township in western Washtenaw County, several gravel roads will get upgrades. The township has committed to pay $69,558 of the $96,990 construction cost.
The Road Commission will be contributing $14,687 of its money to the agreement, as well as $12,745 of its drainage project funds.
The contribution from the township is bigger this year than it has been before, said Doug Fuller, chairman of the Road Commission.
"Lima Township has stepped up their participation, and it's noted and appreciated," Fuller said.
The Road Commission will be placing six inches of limestone gravel on Fletcher Road between Old U.S.-12 and Trinkle Road as a part of the agreement. The total amount of gravel is about 3,000 tons, and work is expected to cost about $42,100.
The agreement also covers the township's dust control program by providing $15,900 to the application of Kaiser Well brine on all of the township's gravel and limestone roads, except for Klinger Road and Liberty Road between Guenther and Dancer roads.
Also funded by the agreement with the Road Commission is Lima Township's limestone, gravel and ditching programs. Specific projects will be determined by the township supervisor.

View Ypsilanti Township mill and resurfacing summer 2013 in a larger map
Amy Biolchini covers Washtenaw County, health and environmental issues for AnnArbor.com. Reach her at (734) 623-2552, amybiolchini@annarbor.com or on Twitter.