Posted on
Sat, Oct 23, 2010 : 9:30 a.m.
Police investigate sexual assault in abandoned mobile home as remaining residents move from Ypsilanti Mobile Village
By Tom Perkins
Washtenaw County sheriff's detectives are investigating the sexual assault of a Pinckney woman who said she was pulled into abandoned mobile home last weekend and raped.
The incident occurred at Ypsilanti Mobile Village on East Michigan Avenue in Ypsilanti Township, a park that deteriorated so badly that township officials have been lobbying the state to revoke the owner's license.
The 35-year-old victim called police at 9 a.m. Saturday and said she was walking through the mobile home park at 2 a.m. that morning when she was attacked. She described the man as Hispanic, about 5 feet 6 inches tall and 150 pounds. Sheriff's spokesman Derrick Jackson said the incident is still under investigation.
The attack occurred just as residents are emptying out of the mobile home park amid living conditions that continue to seriously deteriorate. Township officials have struggled to persuade the park's owner, Troy resident Dominic D'Mello, to address safety hazards and say they've received no help from state agencies.
Mike Radzik, director of the township's Office of Community Standards, said D'Mello was provided notice on Oct. 1 to secure the park's seven vacant units. D'Mello didn't respond to the request, and Radzik said he has "pleaded poverty every step of the way" in terms of fixing public welfare concerns.
D'Mello did not respond to calls from AnnArbor.com for comment.
"To do what he's done to this point and for something like this to happen after ignoring our request to secure the park is, in my mind, unconscionable," Radzik said.
The township has since contracted with a company to board and secure the now nine vacant trailers at a cost of $3,300, which will be billed to D'Mello. Radzik said he expects the park to be completely vacated after this weekend, which will mean around 15 vacant units will remain.
He said the township wants D'Mello to demolish or remove the trailers that are left and secure the ground utilities, three free-standing buildings and the Michigan Avenue entrance.
The remaining residents were awaiting a letter promised by D'Mello in mid-September stating the park is closing. Without proof that the site is shutting down, the residents — many unemployed and on fixed incomes — were ineligible for moving assistance.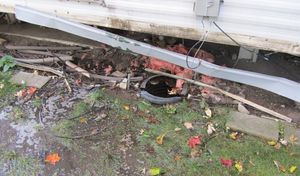 D'Mello, sent that letter on Sept. 24, stating the park will close in 2011 after the last resident leaves.
The Washtenaw County Office of Community Development helped put residents in contact with agencies that can assist in relocation efforts. All but five of the 17 families that remained in mid-September have left.
As residents leave, living conditions continue to worsen. In the latest of a series of potential health and safety hazards, a sewage line broke in the park, causing raw sewage to spew out of the ground for nearly a week. When D'Mello neglected to address the issue, the township contacted the Michigan Department of Natural Resources and Energy, which sent D'Mello a letter ordering a response.
Radzik said the leak was stopped, but he suspects a new sewage leak has sprung.
The park has been problematic for years. D'Mello bought it in 2004, when roughly three-quarters of the park's parcels were occupied.
The ownership arrangement complicates the situation. Residents — not D'Mello — own the trailers, but many of the mobile homes are too old to meet current U.S. Department of Housing and Urban Development codes required to move them to new parks.
D'Mello owns the "pads" on which the trailers sit and are connected to utility lines. Those are leased to mobile home owners. As conditions began significantly deteriorating between 2006 and 2008, the township sued Cormello LLC, D'Mello's company, to bring the park up to code and make other safety improvements.
Per a 2008 consent judgment, the township is to inspect each trailer when a resident leaves. If condemned, D'Mello is legally obligated to either bring the mobile home up to code or have it removed. Every vacated trailer since then has been condemned, and D'Mello regularly pulled the mobile homes out of the park until this summer.
The vacant trailers have attracted scrappers and vandals and raise concerns over prostitution and drug use.
"The problem we're encountering is as quick as residents move out, the vandals are literally right behind them and trying to strip off anything salvageable or siding for scrap value," Radzik said. "In the process of stripping them, they're literally falling apart because they're so old.
"It has quickly becoming kind of like a junkyard, and it's in a location with high prostitution and drug activity. We can't afford to have a park with open trailers that would be safe haven for drug dealers and criminal activity."
Radzik said the township is working on a strategy for securing the park once it's closed, and could end up back in court.
In the 2008 complaint, the township cited numerous issues — including dilapidated manufactured homes, debris such as appliances and garbage littered throughout the park, residents illegally tapping utility lines, D'Mello allowing a resident to live in a condemned mobile home and general disrepair to the park's infrastructure.
D'Mello told township officials he didn't have the funds to make the repairs and intended to close the park. Case workers from the Shelter Association of Washtenaw County's Homeless Prevention and Rapid Rehousing Program have been assisting the residents with moving.
Anyone with information on the sexual assault is asked to call the sheriff's tip line at 734-973-7711.
Tom Perkins is a freelance writer for AnnArbor.com. Reach the news desk at news@annarbor.com or 734-623-2530.