Ypsilanti officials: Ypsilanti-Willow Run merger could affect prosperity of city
Posted on Thu, Oct 18, 2012 : 4:04 p.m.
Ypsilanti City Council members said the potential consolidation of the Ypsilanti and Willow Run school districts could greatly affect the city and its residents, prompting them to voice their support.
The Ypsilanti City Council voted 5-2 Tuesday night in favor of a resolution supporting the consolidation. Council members Brian Robb and Pete Murdock voted against it.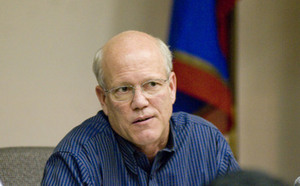 Mayor Paul Schreiber said the approval or rejection by voters on Nov. 6 could affect the way people view the city and affect the city financially.
Council members said public education is not only a fundamental right of every child, but also is important for the health, wellbeing, vibrancy and prosperity of the city.
Ypsilanti and Willow Run school boards approved placing the question of merging districts on the Nov. 6 general election ballot at a joint meeting on Aug. 8.
Schreiber said when families are considering where they want to live, one of the first questions is usually related to what the school system is like.
"If the answer is the school system has an emergency manager, now that's a negative," Schreiber said. "If you say, well there's restructuring and some hope, that's more positive. I think it's incumbent upon us to understand what the options are and make our voices known because how the school system goes will ultimately have an affect on how the city goes."
Robb said he voted against the resolution because it's ultimately up to the voters to decide on the consolidation.
"I think this is a mistake and goes beyond our scope," he said. "I don't think we should be voting on ballot initiatives."
Council member Daniel Vogt said the consolidation could directly and indirectly affect residents and city operations.
Mayor Pro Tem Lois Richardson said without the consolidation, neither district will be able to survive.
Schreiber said he believes if the consolidation isn't passed, an emergency manager could be put in place.
"I think there will be an emergency manager for both districts," he said. "Public schools are the big equalizer. Kids get put together and get experiences that they maybe wouldn't have at a smaller, less diverse school."
Schreiber said the city council is charged with making the city attractive and school services are a large part of that.
"This is close to home," he said. " I think we need to build back our public school system."