Posted on
Thu, Aug 9, 2012 : 5:59 a.m.
Ypsilanti, Willow Run school boards OK placing question of consolidation on November ballot
By Danielle Arndt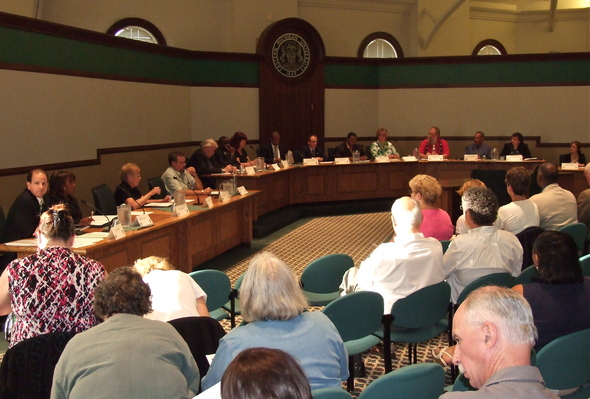 Danielle Arndt | AnnArbor.com
Whether the Ypsilanti and Willow Run school districts will merge and tackle their daunting financial problems together is now up to the voters.
The two boards of education met in joint session at Eastern Michigan University Wednesday night and voted 11-2 to place the question of consolidating their struggling school districts on the Nov. 6 general election ballot.
Willow Run trustees Brenda Meadows and Bobby Stevens voted "no." Ypsilanti Vice President Kira Berman was absent.
The districts have until Aug. 28 to submit their ballot proposal language to the Washtenaw County Clerk's Office.
The two trustees from Willow Run also opposed the idea of a merger back in April, when the boards first met to vote on exploring the possibility of and potential design for a unified district.
Meadows previously declined to comment on her stance against consolidation but prepared a written statement Wednesday voicing her concerns. She said combining two unstable school districts is the type of action that will prevent the community of Ypsilanti from advancing into the future.
"Two business owners would not go into partnership with one another if there was not a benefit of growth or production," Meadows said. "Is there a benefit of growth or production here? No. Will we be better off? No. We can no longer look for the easy way out. We have to look for new, innovative ways to change the climate and the environment."
But other board members and school officials said consolidation is far from the "easy way" and is precisely the opportunity they've been waiting for to create a new culture and climate.
"I believe the community would like to see a world-class school district. And if we couldn't do it alone, then maybe we can do it as one district," said Ypsilanti Trustee Linda Snedacar-Horne.
Washtenaw Intermediate School District Superintendent Scott Menzel described the consolidation effort as courageous, stating Wednesday's vote was the beginning of the journey, not the end. He said there is a tremendous amount of work yet to be done.
Willow Run School Board President Don Garrett, a native of Ypsilanti and a 1990 Willow Run graduate, compared the school district to the once-crumbling LaForge Road. He said officials tried repeatedly to patch LaForge, to fix the cracks and the potholes. But it wasn't until the road was gutted and reconstructed from the dirt up that the potholes ceased to exist, Garrett said, adding the community has a unique opportunity to repair the real issues plaguing its education system.
Meadows said she recognizes both school districts are struggling with budget deficits and poor academic performance rates, but she said teachers and leaders must take responsibility.
"Tossing around the threat of an emergency financial manager to come in and take control — is that what we need? Or can we show ourselves — and our constituents that elected us — that we can be financially responsible?"
Meadows said in the past, Willow Run has been able to improve test scores and pass a balanced budget, when officials were determined to do so. The district must get serious about new methods for generating additional revenue for its schools, she said.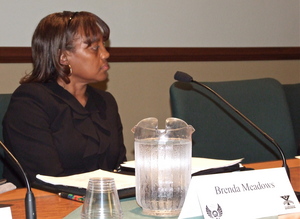 Danielle Arndt | AnnArbor.com
Meadows also mentioned the declining birth rate in the community as a whole. She said people are not having children at the same rate they once were.
"We should not unify districts, but unify the schools within the districts. … Let's house all of the students in one or two buildings. That would cut costs drastically," she said.
Willow Run School Board Secretary Mark Wilde was not shy about sharing the blame with the state of Michigan for the districts' financial crises, citing "deliberate underfunding" and the burden of paying for insurance and retiree benefits being shifted to local schools.
Combined, Ypsilanti and Willow Run have a deficit of about $12.4 million, with nearly $10 million of that belonging to Ypsilanti.
Of the approximately 35 people in the audience at Wednesday's joint school board meeting, just one woman spoke during public comment. Kathy Fisk, a 15-year teacher with Ypsilanti Public Schools, is excited about the direction the potential new district could take.
"It's really recharged me," she said, adding she had been discouraged and considering early retirement.
Her piece of advice to school leaders was to make a concerted effort to improve children's access to nutritional information and healthy meals and food choices.
"If our kids are not supported nutritionally, it's not going to matter how we teach them or in what environment. They are going to struggle to learn without the proper nutrients," Fisk said, adding with so many economically disadvantaged families in the community, it is especially important.
Jeanice Townsend and her daughter Kiarra, 10, also were in the audience. Kiarra starts at Ypsilanti's Estabrook Elementary School in the fall. She will transfer from charter school Fortis Academy.
Townsend, who described herself as a very active parent, said although she went the charter school route first for her daughter, she is a product of Ypsilanti schools, and that fact helped bring her back. She said talks about the potential merger with Willow Run did not impact her decision one way or the other.
"Since both districts really are on life support, it makes sense. It seems like the right thing to do," she said.
Townsend said residents in the districts are united by the fact that when they send out letters and bills, it always says "Ypsilanti" in the return address line. Members of both districts attend the same churches, shop at the same stores and are part of the Ypsilanti community's rich history, she said.
Danielle Arndt covers K-12 education for AnnArbor.com. Follow her on Twitter @DanielleArndt or email her at daniellearndt@annarbor.com.