Posted on
Tue, Apr 9, 2013 : 9:30 p.m.
Ypsilanti police chief confirms Julia Niswender was drowned in bathtub
By Katrease Stafford
Ypsilanti police Chief Amy Walker confirmed Julia Niswender was found drowned in her bathtub and said the department is continuing to actively investigate the case as a homicide.
"This case has always been and will continue to be a homicide," Walker said Tuesday evening. "... There won't be a stone unturned."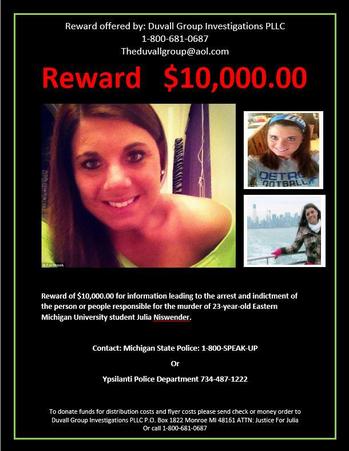 Courtesy photo
Walker confirmed the cause of death of the 23-year-old Eastern Michigan University student was asphyxiation associated with drowning. The confirmation comes after investigators ruled the death a homicide in January. Julia's family released the cause of death to the media earlier Tuesday.
Niswender was found dead Dec. 11 in her off-campus apartment in Peninsular Place Apartments in Ypsilanti.
Julia's twin sister, Jennifer Niswender, told AnnArbor.com Tuesday that Julia's apartment was found in disarray and "couple of things were missing." Jennifer also said the door to Julia's apartment was locked, but declined to say whether her keys were included in the missing items.
Jennifer said police have told the family there were no signs that a "sexual assault or struggle" took place.
"That's what they said right from the beginning," Jennifer said.
Jennifer said the family believes the individual responsible for her sister's death was someone she knew, although she said at this point, it's just the family's speculation.
Walker declined to provide additional details about the case, including whether Julia may have known the individual responsible for her death.
"I can't get into any of that," Walker said. "These detectives have a difficult case and have been working vigorously. It's not a clear-cut case.There's some sensitive information. ...The fact that the family is going public, I can't control it."
Walker said the public should not be on "high alert" about their safety, but urged people to be aware of their surroundings as usual.
Walker said investigators have interviewed more than 100 individuals for possible leads. Jennifer told AnnArbor.com that each individual took a polygraph test.
The Niswender family recently announced a $10,000 reward that is being offered for more information regarding her death. The reward is being offered by the Duvall Group Investigations PLLC.
Individuals with information are being asked to contact the Michigan State Police at 1-800-SPEAK-UP or the Ypsilanti Police Department at 734-483-9510.
Katrease Stafford covers Ypsilanti for AnnArbor.com.Reach her at katreasestafford@annarbor.com or 734-623-2548 and follow her on twitter.