Posted on
Wed, Sep 12, 2012 : 1:53 p.m.
Ypsilanti police release name, photo of suspect in 2 sexual assaults
By Kyle Feldscher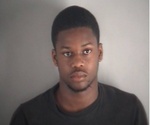 Courtesy of Ypsilanti police
Ypsilanti police said Wednesday the man
they believe sexually assaulted a 22-year-old woman
in Ypsilanti last week is also suspected of sexually assaulting a 19-year-old woman the next night.
Police said Paul Cy Phelps III, an 18-year-old Detroit man, is wanted in connection with the Sept. 6 and Sept. 7 incidents in the 300 block of Jarvis Street and the 900 block of Railroad Street. Police said Phelps frequented Eastern Michigan University to meet the women but was not a student at the school.
"Both of them were acquaintance type (sexual assaults)," Detective Sgt. Thomas Eberts said.
Police said Phelps met a 22-year-old woman a few days before a party. After the party on Sept. 6, friends dropped off the woman at her home and Phelps came over a short time later and is accused of sexually assaulting the woman, police said. The incident was reported to police at 2:30 a.m. on Sept. 6.
Phelps is suspected of sexually assaulting a 19-year-old woman a day later in the 900 block of Railroad Street, police said. That incident was reported to police at 3 a.m. on Sept. 7.
Eberts said Phelps met the 19-year-old woman at a party and came back to her apartment with several friends. There were several people in the apartment when Phelps allegedly sexually assaulted the woman in a bedroom.
Neither woman was injured in the assaults and both went to local hospitals for tests following the incidents.
Police believe Phelps frequents the Ypsilanti area, mostly around the EMU campus. State records show Phelps is on probation for an unarmed robbery conviction in August 2011.
Phelps is banned from being on Eastern Michigan University's campus after multiple contacts with campus police, Eberts said.
"He's got at least one friend up here that we know he comes up and sees," he said. "He's been trespassed from Eastern's campus; he's had more than one contact with EMU Police."
Anyone with information on Phelps' whereabouts is encouraged to call Eberts at 734-482-9878 or Crime Stoppers 1-800-SPEAK UP (773-2587).
Kyle Feldscher covers cops and courts for AnnArbor.com. He can be reached at kylefeldscher@annarbor.com or you can follow him on Twitter.