Posted on
Tue, May 15, 2012 : 4:12 p.m.
Ypsilanti schools defines 'bullying conduct' in proposed new anti-bullying policy
By Danielle Arndt
Related story: Ann Arbor Public Schools releases first draft of anti-bullying policy
Ypsilanti Public Schools conducted a first reading of its new anti-bullying policy Monday.
The policy was drafted to satisfy the state's requirement for all school boards to adopt an anti-bullying policy by June 6.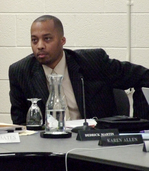 Contrary to Ann Arbor Public Schools proposed policy
, Ypsilanti's defines "bullying conduct" and sets forth criteria for determining whether an incident should be treated as "bullying" or simply "aggressive behavior."
The policy states it would apply to all activities within the district, including: "activities on school property, in a school vehicle and those occurring off school property — if the student or employee is at a school-sponsored, school-approved or school-related activity or function, such as a field trip or athletic event where students are under the school's control, or where an employee is engaged in school business."
Ann Arbor Trustee Andy Thomas said at last week's policy reading for AAPS he hoped his district would more clearly describe the environments in which the policy would apply.
Ypsilanti's procedures outline a timeframe of three days for completing an investigation of bullying or an aggressive behavior complaint. The policy also states the parents or guardians of bullying victims and perpetrators must be notified within 24 hours of the alleged incidents being reported.
YPS' draft policy also lists consequences for students and staff found to be partaking in bullying or aggressive behavior, stating the "prompt and appropriate remedial action" could included up to expulsion for students; up to discharge for employees; exclusion for parents, guests, volunteers and contractors; and a request for resignation from Board of Education members.
The policy draft provides separate definitions for physical, verbal and psychological bullying; intimidation; and menacing. It contains a statement of confidentiality but stresses, in some cases, a proper investigation may require the disclosure of names and allegations.
A "free speech and complaints" provision was included in Ypsilanti's draft language. It says all complaints alleging the policy is not being followed may be made to the building principal who would be required to "promptly and thoroughly" investigate the non-compliance of the anti-bullying policy.
Ypsilanti Superintendent Dedrick Martin, if the policy passes, would be charged with developing administrative "guidelines" for implementing the policy. The guidelines would include reporting and investigative procedures.
Read the complete version of Ypsilanti's anti-bullying policy here.
Compare Ann Arbor Public Schools proposed policy here.
Staff reporter Danielle Arndt covers K-12 education for AnnArbor.com. Follow her on Twitter @DanielleArndt or email her at daniellearndt@annarbor.com.