Posted on
Tue, May 15, 2012 : 5:58 a.m.
Ann Arbor Public Schools releases first draft of anti-bullying policy
By Danielle Arndt
Related story: Ypsilanti schools defines 'bullying conduct' in proposed new anti-bullying policy
Ann Arbor Public Schools is in the process of developing its first anti-bullying policy.
The process must be completed by June 6 per a state mandated timeline under the new legislation enacted in January that requires all districts in Michigan to adopt a policy against bullying at school.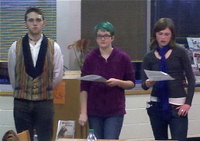 Danielle Arndt I AnnArbor.com
The law,
Public Act 241
, also says districts must submit policies to the
Department of Education
by the June date.
AAPS has never had a Board of Education policy on bullying.
Dave Comsa, deputy superintendent of human resources and legal services, said the policy draft before the board is "very simple" and "basically sticks" to the nine items the state mandates be included.
During an initial reading of the policy, however, Trustee Simone Lightfoot expressed her concern that a number of the items seemed open-ended and gave authority to Superintendent Patricia Green to develop them further without board input.
The state of Michigan says the following must be included in the policy:
A statement prohibiting bullying of a pupil
A statement prohibiting retaliation or false accusation
A provision indicating all pupils are protected and that bullying is equally prohibited without regard to subject matter or motivation
A statement regarding which school official is responsible for ensuring the policy is followed
A statement describing how the policy will be publicized
A procedure for reporting bullying
A procedure for notifying the parents of the victim(s) or perpetrator(s) of the bullying
A procedure for promptly investigating all reported incidents of bullying and identifying who is responsible for the investigation
A procedure for reporting bullying and the resulting consequences to the district's board of education on at least an annual basis
AAPS' draft says bullying should be reported to the school principals or assistant principals. It also says students can report bullying to a teacher or counselor if they choose, and these staff members then are required to inform the building's leaders.
Per the current draft, Green would develop administrative procedures for notifying parents of the students involved in bullying incidents after the board approves the policy. Green also would retain the right to craft and implement regulations for investigating bullying complaints that building leaders would be expected to follow.
Lastly, if passed, the policy would delegate to Green the function of establishing procedures for documenting and tracking reports of bullying.
Trustee Susan Baskett asked if the board would be able to see and provide input on these procedures before implementation. President Deb Mexicotte said board approval is not required for these items but if the board wanted to see them, she was certain the administration would oblige.
Mexicotte said she also would like to see AAPS possibly consider adding "whistleblower protections" to the policy so students will not be fearful of reporting incidents.
Lightfoot asked about the various types of bullying — such as verbal versus cyber bullying, physical assault and others — and whether punishments for these would be clearly defined in the policy. Comsa said this likely would fall under the not-yet-developed administrative regulations. He added the district-wide discipline form that currently is being piloted also will help capture and record this information.
In February, the Ann Arbor Neutral Zone's Riot Youth, comprised of local high school teenagers, many of whom have been bullied for their sexual orientation, voiced a number of recommendations to the board and administration when talks about drafting this new anti-bullying policy began.
The youth asked for comprehensive and extensive reporting requirements for each bullying category as well as additional conflict prevention and management components for peers to engage in.
"It's not just the policy, though," said Riot Youth member Emma Upham, a senior at Saline High School, said in February. "It's the follow-through and how the policy is enforced and what happens to students after issues are brought to an adult's attention."
Many public commenters at February's meeting told stories about AAPS administrators "sweeping" bullying incidents "under the rug" after they or their children filed reports.
The board is expected to discuss any additional tweaks to the anti-bullying policy at Wednesday's Committee of the Whole meeting at 5:30 p.m. at the Balas Administration Building.
A public hearing on the policy, as is required by state law, will be conducted during the board's regular meeting on May 23. A public hearing on the 2012-13 budget also is scheduled for this date.
Download a copy of the proposed anti-bullying policy here.
Staff reporter Danielle Arndt covers K-12 education for AnnArbor.com. Follow her on Twitter @DanielleArndt or email her at daniellearndt@annarbor.com.