Posted on
Fri, Jan 4, 2013 : 5:59 a.m.
Ypsilanti sets debt reduction, redevelopment goals and more for 2013
By Katrease Stafford
Expenditure reductions, revenue enhancements and consolidation opportunities are just a few of the goals the Ypsilanti City Council outlined to tackle in 2013.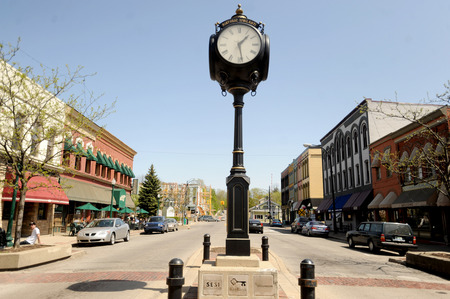 Council held its 2013-14 goal setting meeting Thursday evening to lay a framework for improving the city's financial health while encouraging economic development.
In a memo to council, City Manager Ralph Lange said the purpose of the meeting was to focus on a discussion of goals that contribute to resolving the fiscal challenges facing the city.
Thursday's goal-setting discussion briefly recapped the financial issues facing the city and the steps that have been taken to address these issues since July 30, 2012. Council then discussed potential goals for the year.
Lange specifically outlined principles listed in his five-year turnaround plan for the city to try to follow. Lange's plan is designed to allow the city to remain solvent and maintain services and meet all scheduled debt service obligations through 2018.
It calls for:
Making sure that each employee is being utilized to the highest and best level of productively for the benefit of the city.
Hire new employees are hired with a benefit package that is more in line with current comparable positions in the private sector.
Work towards establishing individual contracts for all non-union employees that will provide added benefit for the employee and the city.
Encourage employees to become more valuable to the City through cross training of job duties to the greatest extent feasible.
Reduce the city's overhead costs to match the current and projected size of the city's work force.
Instruct city staff to find opportunities for joint ventures that benefit both parties within and outside the city's operations.
Manage the city's debt as cost effectively as possible.
Find ways to reduce costs and maintain services while improving customer service for people who come in contact with the city.
Council Member Brian Robb criticized the principles as being too generic and said the city needs to focus on more pointed ways to grow the community. Robb said the city should aim to become "clean, pretty and safe."
"Ordinance enforcement is the No. 1 issue," Robb said. "These are things we have to overcome. ... I would also like to give absolute and direct tasks."
Cross-training employees will prove to be vital to the health of the city, Lange said. The treasurer and clerk's offices have already been combined to streamline services.
"That absolutely is happening in a very serious way across the board," Lange said. "...That's not just police and fire, it's everyone."
Proposed new budget priorities for the year may also include a hybrid public safety model with police and fire, where officers and firefighters would be cross trained.
In an effort to save money, Lange is proposing the city consider a street-lighting special assessment with support of city council on or before June 30, 2013. Lange wants to convert some city street lights to LED lights, which he says will save money in the long run.
Council Member Pete Murdock suggested converting all of the lights to save even more money down the line.
In terms of economic development, Lange and council reiterated the importance of the master plan update, which is under way.
The master plan is an official document that describes long-range goals of the city and outlines policies for reaching those goals. The plan serves as the basis for the zoning ordinance, and guides the planning commission and other entities in their decision making process.
City Planner Teresa Gillotti said two large events will be held in March and April to promote the process and get feedback from the community.
"It's going to be a lot of opportunities to get input and to engage people," Gillotti said
Council may have a second goal-setting meeting to outline goals specific to economic development in the city. City staff will provide information that will contribute to developing action plans to achieve the outlined goals.
Katrease Stafford covers Ypsilanti for AnnArbor.com.Reach her at katreasestafford@annarbor.com or 734-623-2548 and follow her on twitter.